Edge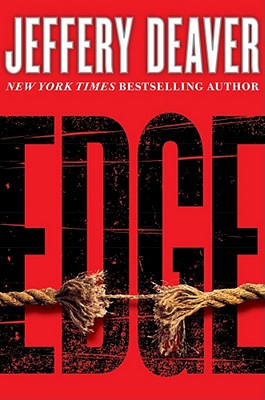 Edge
Simon & Schuster, Hardcover, 9781439156353, 416pp.
Publication Date: November 2, 2010
* Individual store prices may vary.
Buy at Local Store
Enter your zip code below to purchase from an indie close to you.
or
Not Currently Available for Direct Purchase
Description
Behind the well-known U.S. security organizations— the FBI and CIA among them—lies a heavily guarded, anonymous government agency dedicated to intelligence surveillance and to a highly specialized brand of citizen protection.
Shock waves of alarm ripple through the clandestine agency when Washington, D.C., police detective Ryan Kessler inexplicably becomes the target of Henry Loving, a seasoned, ruthless "lifter" hired to obtain information using whatever means necessary. While Loving is deft at torture, his expertise lies in getting an "edge" on his victim—leverage—usually by kidnapping or threatening family until the "primary" caves under pressure.
The job of keeping the Kessler family alive falls to a man named Corte, a senior federal protection officer known as a "shepherd." Uncompromising, relentlessly devoted to protecting those in his care and a passionate board game aficionado, he applies brilliant gaming strategy to his work. For Corte, the reappearance of Loving—the man who, six years earlier, had tortured and killed someone close to him—is also an opportunity to avenge his friend's death. The assignment soon escalates into a fast-paced duel between Corte and Loving, a dangerous volley of wits and calculated risks.
As he shepherds the Kesslers to a concealed safe house, Corte must anticipate Loving's every step as the lifter moves in on his prey, and with the help of razor-sharp investigator Claire DuBois and his longtime ally, FBI agent Paul Fredericks, pinpoint which of Kessler's seemingly insignificant cases has triggered Loving's return. As the team digs deeper, each of the Kesslers comes under close scrutiny, and in captivity their family bonds are stretched to the breaking point—as the lifter draws near, Corte must ultimately choose between protecting his charges and exposing them to a killer in the name of long-awaited revenge.
About the Author
Jeffery Deaver, a former attorney, is the New York Times bestselling author and originator of the acclaimed detective hero Lincoln Rhyme, featured in nine hit novels. A lifelong fan of Ian Fleming's James Bond novels, Deaver was honored to be handpicked by Fleming's estate to carry on the literary tradition, beginning with his #1 international and New York Times bestseller Carte Blanche. His novel, XO, features special agent Kathryn Dance, who first appeared alongside Lincoln Rhyme in The Sleeping Doll and whose popularity inspired Roadside Crosses, first in the series. A former folksinger, Deaver penned songs featured in XO, which are downloadable from his website. His many awards include the 2009 Best Novel of the Year award from the International Thriller Writers organization for his stand-alone novel The Bodies Left Behind. He's been nominated for seven Edgar Awards, an Anthony Award, and a Gumshoe Award, and was short-listed for the ITV3 Crime Thriller Award for Best International Author. He is a three-time recipient of the Ellery Queen Readers Award for Best Short Story of the Year, and a winner of the British Thumping Good Read Award. He has also won a Steel Dagger for best thriller of the year (Garden of Beasts) and a Short Story Dagger from the British Crime Writers' Association. Visit the author on Facebook or go to JefferyDeaver.com.