Instinctive Parenting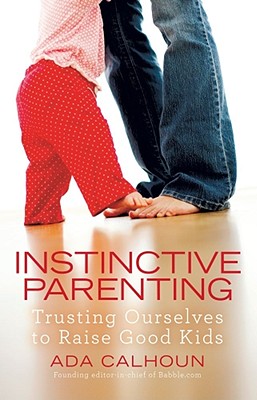 Instinctive Parenting
Trusting Ourselves to Raise Good Kids
Gallery Books, Hardcover, 9781439157299, 288pp.
Publication Date: March 16, 2010
* Individual store prices may vary.
Buy at Local Store
Enter your zip code below to purchase from an indie close to you.
or
Not Currently Available for Direct Purchase
Description
Babble.com's readership has tripled in the past year and is still growing rapidly, indicating that today's busy parents—especially those from Gen X and Gen Y—are hungry for advice. According to editor-in-chief Ada Calhoun, many parents are unnecessarily anxious, worrying and trying to follow advice from their own parents, other parents on the playground, or board-certified experts. She believes, "if we encourage our kids to be kind and generous and we trust our own instincts about all the other stuff, we may just be able to rear a generation of capable people—and stay relatively happy ourselves." Sound easy? It is, and in Instinctive Parenting , Calhoun makes smart sense of all the available choices and opinions for how to raise one's child "right.".
As a mother herself, Ada knows firsthand about all the pressing issues, fears, and anxiety parenting brings. And she's discovered that food, shelter, and love are all kids need to thrive—a welcome antidote to many modern childrearing philosophies that are currently popular. So forget the organic-cotton t-shirts, ergonomic wooden toys from Sweden, and locally grown chickpeas for snacks, and instead do the very basic things that matter most. Thoughtful, hip, and relatable, Calhoun's parenting advice is a refreshingly simple approach for every parent wanting to raise a decent human being. .
About the Author
Ada Calhoun was the founding editor-in-chief of the award-winning parenting site Babble.com. She is the co-author of Tim Gunn's book Gunn's Golden Rules: Life's Little Lessons for Making it Work, and has written for the New York Times, New York magazine, the New York Post, Salon.com and TIME magazine. She lives in New York City with her husband and young son.
Praise For Instinctive Parenting…
"With Instinctive Parenting, Ada Calhoun has captured the zeitgeist of the postmodern American family in the uniquely compelling voice that has made her the brightest star in the new generation of parenting writers. I loved this book and can't wait to hand it out to all of my pregnant friends." -- Katie Allison Granju, author of Attachment Parenting



"Why did I ever worry about motherhood? I read this book and was instantly cured!" -- Lisa Crystal Carver, author of Dancing Queen



"Thank you, Ada Calhoun! Instinctive Parenting injects sensitivity, smarts, and a welcome dose of sanity into the often-overwrought process of raising kids. Prospective parents: Never mind What to Expect -- this is What You Need." -- Pamela Paul, author of Parenting, Inc.



"This book is light and funny and also very wise and wonderful." -- Tara McKelvey, author of Monstering



"From the delivery room to the playground and beyond, Ada Calhoun bravely defies the cult of perfection today's new parents must endure. No bossy, patronizing advice given here, Instinctive Parenting simply encourages parents to rely on their own good judgment and trust themselves (and each other) to raise their children -- not perfectly -- but perfectly well." -- Kathryn J. Alexander, coauthor of Easy Labor: Every Woman's Guide to Choosing Less Pain and More Joy During Childbirth



"I love this book. It's smart, funny, and easy to read. More importantly, it's an advice book that 1) won't stress you out, and 2) is worth its weight in gold." -- Kathleen Hanna



"The book I've been desperate for has arrived -- a common sense and compassionate approach to helping parents navigate the task of raising a child. Most importantly, it reminds us we are not alone and that we can trust ourselves." -- Lili Taylor