Love Anthony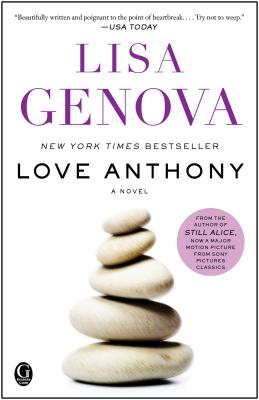 Love Anthony
Gallery Books, Paperback, 9781439164693, 309pp.
Publication Date: April 2, 2013
* Individual store prices may vary.
Buy at Local Store
Enter your zip code below to purchase from an indie close to you.
or
Buy Here
Description
From award-winning "New York Times" bestselling author Lisa Genova whose novel" Still Alice "is now an Academy Award-winning film starring Julianne Moore comes a novel about autism and unconditional love. Look for Lisa Genova's latest novel, "Inside the O Briens," available now.
"I m always hearing about how my brain doesn t work right But it doesn t feel broken to me."
In an insightful, deeply human story reminiscent of "The Curious Incident of the Dog in the Night-time, Daniel Isn t Talking," and "The Reason I Jump," "New York Times "bestselling author and neuroscientist Lisa Genova offers a unique perspective in fiction the extraordinary voice of Anthony, a nonverbal boy with autism. Anthony reveals a neurologically plausible peek inside the mind of autism, why he hates pronouns, why he loves swinging and the number three, how he experiences routine, joy, and love. And it is the voice of this voiceless boy that guides two women in this powerfully unforgettable story to discover the universal truths that connect us all.
About the Author
Lisa Genova is the "New York Times" bestselling author of "Inside the O'Briens", "Love Anthony", "Left Neglected", and "Still Alice". Her first novel, "Still Alice", has been adapted into a film starring Julianne Moore, Alec Baldwin, and Kristen Stewart. Lisa graduated valedictorian from Bates College with a degree in biopsychology and holds a PhD in neuroscience from Harvard University. She travels worldwide speaking about Alzheimer s disease, traumatic brain injury, and autism. She has appeared on "Dr. Oz", "The Diane Rehm Show", CNN, "Chronicle", Fox News, and Canada AM and is featured in the Emmy Award winning documentary film "To Not Fade Away". She lives with her family in Massachusetts.
Praise For Love Anthony…
"There's
a point in the narrative where one of the characters becomes so
engrossed in reading a book that she loses track of time. Readers of
Genova's latest excellent offering might very well find the same
happening to them."
-Kirkus

"Lisa Genova's novels ring true. Love Anthony, like Genova's two previous novels, is
beautifully written, and poignant to the point of heartbreak...Anyone who has had
even a passing contact with an autistic child will relate.
-USA Today

Writing with deep empathy and insight, Genova has created an engaging story that fearlessly asks the big questions.
-Booklist

"Autism is like a Zen koan—a riddle without answers.., with effects that are myriad, mysterious, and confounding. The same could be said about love. This book upended my perceptions of both conditions, leaving me feeling with my mind and thinking with my heart. Everyone should read this book!"
--Jamie Ford, New York Times bestselling author of Hotel on the Corner of Bitter and Sweet

"Lisa Genova has essentially created her own genre, the 'Lisa Genova' novel, in which complicated topics become accessible to readers through beautifully-drawn characters and profound, human-scale stories. Love Anthony dares to ask enormous questions, the big questions that bedevil all of us. Better yet, Genova has the wisdom to know which ones can be answered, and which cannot." --Laura Lippman, New York Times bestselling author of And When She Was Good

"Love Anthony broke my heart in the best way! I read it spellbound and breathless. If you don't know Lisa Genova's work already, meet your new favorite writer, storyteller, enchanter." --Heidi W. Durrow, author of The Girl Who Fell from the Sky, Winner of the Bellwether Prize

"Genova's deep and empathic insight once again has blown me away -- particularly her intensely accurate portrayal of autism parenting. Her characters are complicated people, with unique, believable and, sometimes frustrating struggles. But perhaps Genova's true mastery is in the way she never fails to give us very real people to love." --Susan Senator, author of Making Peace With Autism



"With every line of that last letter as
written from Anthony, I wept harder ... My heart, my chest, my throat, my face,
my eyes pulsated with something so painful, yet so beautiful and happy at the
same time ... and if there is one thing every Mom with a child of Autism should
know, it's the perspective written within that letter."
-T. Elaine, Goodreads reviewer



"It's not just a good book about autism,
it's a good book that happens to have autism in it."
-N. McKibben, Goodreads reviewer



"In Love Anthony, Olivia is
dealing with the death of her autistic young son, Anthony … Genova's
writing is getting stronger with each book, in my opinion. I recommend all of
her books. I cannot wait to read anything else she writes."
-Melissa's Book Picks