Vivian Rising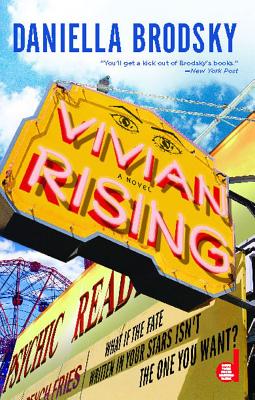 Vivian Rising
Downtown Press, Paperback, 9781439172025, 332pp.
Publication Date: August 3, 2010
* Individual store prices may vary.
Not Currently Available for Direct Purchase
or
Shop Local
Enter your zip code below to purchase from an indie close to you.
Description
Vivian Sklar has always depended on her wise and feisty grandmother--not just because Grams raised her after Viv's mother took off twenty years ago, but because she seemed to have life all figured out. So when Grams dies, Viv feels completely alone. Everything she once knew seems unfamiliar and unwelcoming--until she finds hope in a most unlikely place: the cluttered second-story walk-up of an alarmingly perceptive astrologer. Viv thinks horoscopes are about as reliable as fortune cookies, but when Kavia's first reading dissuades her from taking a train that later crashes, she's hooked.
Under Kavia's guidance, Viv begins to process her grief and rebalance her life. She faces her mother, gets her career back on track, and even shares some meaningful moments with Len, her handsome new neighbor. Every prediction seems to speak directly to Viv's life, and so far, the stars haven't steered her wrong. Then the stars tell Viv that the bond she has forged with the insightful yet guarded Len isn't meant to last. Len has become her greatest source of security and comfort, but just as she settles into his arms--and into his heart--Kavia insists that a relationship with him is dangerous. Now Viv faces a choice: should she follow the path that's been written in the stars, or trust herself to write her own story?
Witty and honest, Daniella Brodsky's charming new novel is a powerful tale of moving on, letting go, and keeping the faith--in any form it happens to take.
About the Author
In addition to VIVIAN RISING, Daniella Brodsky is the author of THE VELVET ROPE DIARIES, PRINCESS OF PARK AVENUE, and DIARY OF A WORKING GIRL, which has been made into a movie on the ABC Family network starring Hilary Duff. Brodsky is also the creator and author of the GIRL'S GUIDE TO NEW YORK NIGHTLIFE series. She has been featured on Good Day New York, the WB Morning News, NPR radio, and in the New York Times, the New York Post and the Hartford Courant. She teaches the craft of fiction writing at The Australian National University's CCE program, and has led discussions about writing at libraries, bookstores and schools in the U.S.. A native New Yorker, Brodsky lives in Canberra, Australia with her husband, where she is writing two new women's fiction novels and a Canberra-based thriller while exploring the art and craft of fiction and the wonder of libraries. Visit her at www.daniellabrodsky.com.