The Case of the Man Who Died Laughing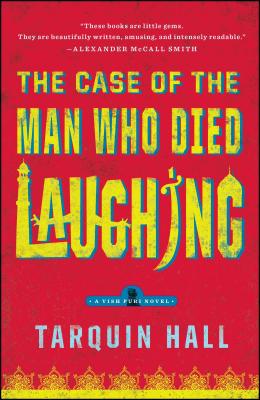 The Case of the Man Who Died Laughing
From the Files of Vish Puri, Most Private Investigator
Simon & Schuster, Paperback, 9781439172384, 309pp.
Publication Date: June 21, 2011
* Individual store prices may vary.
Buy Now
or
Shop Local
Enter your zip code below to purchase from an indie close to you.
Description
Early one morning, on the lawn of a grand boulevard in central Delhi, the Hindu goddess Kali appears and plunges a sword into the chest of a prominent Indian scientist, who dies in a fit of giggles. Vish Puri, India's Most Private Investigator, master of disguise and lover of all things fried and spicy, doesn't believe the murder is a supernatural occurrence and sets out to prove who really killed Dr. Suresh Jha. To get at the truth, he and his team of undercover operatives—Facecream, Tubelight, and Flush—travel from the slum where India's hereditary magicians must be persuaded to reveal their secrets to the holy city of Haridwar on the Ganges. Stopping only to indulge his ample Punjabi appetite, Puri uncovers a network of spirituality, science, and sin unique in the annals of crime and soon finds that solving the case will require all of his earthly faculties.
About the Author
Tarquin Hall is a writer and journalist who has lived and worked in much of South Asia, the Middle East, Africa, and the United States. He is the author of "Mercenaries, Missionaries, and Misfits: Adventures of an Underage Journalist"; "To the Elephant Graveyard"; "Salaam Brick Lane: A Year in the New East End"; and the Vish Puri series of mystery novels.
Praise For The Case of the Man Who Died Laughing…
"Delightful . . . Hall splendidly evokes the color and bustle of Delhi streets and the tang of contemporary India." —Seattle Times, "Best Crime Novels of 2010"



"Hall writes amusing mysteries…[his] affectionate humor is embedded with barbs." —Marilyn Stasio, The New York Times Book Review



"Modern India, in all its colorful squalor, provides a vivid backdrop for this well-crafted whodunit." —Jean Westmoore, Buffalo News



"Delightful . . . a terrific book with wonderful puzzle plot and a great setting." —The Globe and Mail



"Hall takes the reader into a very Indian, very Delhi web of spirituality, sin, slums, and power broking, but all treated with a veneer of wit and intelligent absurdity." —India Today



"Splendid . . . Entertaining . . . Vish Puri is large, constantly hungry, a perpetual victim of Delhi's traffic congestion, and a wonderfully engaging P.I. . . . A joy to read." —The Times (London)