The Escape Artists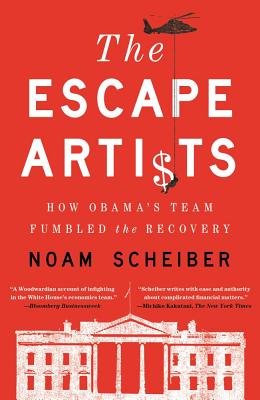 The Escape Artists
How Obama's Team Fumbled the Recovery
Simon & Schuster, Paperback, 9781439172414, 351pp.
Publication Date: September 4, 2012
* Individual store prices may vary.
Buy Now
or
Shop Local
Enter your zip code below to purchase from an indie close to you.
Description
DEEP INTO THE OBAMA PRESIDENCY, THE UNEMPLOYMENT RATE WAS PAINFULLY HIGH, THE GAP BETWEEN RICH AND POOR HAD WIDENED, AND THE STIMULUS HAD NOT DONE ENOUGH TO BRING JOBS BACK.
WHAT WENT WRONG?
FACING THE WORST ECONOMY SINCE THE 1930S, President Obama hired a crack team of escape artists: financial wizards who had pulled off numerous whiteknuckle getaways during the Clinton era. But this time, they fell far short. The Escape Artists reveals why.
Star White House journalist Noam Scheiber delivers a gripping narrative of the Obama presidency and the mistakes and missed opportunities that kept his pedigreed team from steering the economy in the right direction. With previously undisclosed internal documents and extensive, original reporting from the highest levels of the administration, Scheiber reveals how the very qualities that made these men and women escape artists in the 1990s ultimately failed them.
About the Author
Noam Scheiber is a senior writer at the New Republic who has also written for publications including the New York Times and the Washington Post.
Praise For The Escape Artists…
"Scheiber writes with ease and authority about complicated financial matters . . . and proves particularly adept at showing how [the Obama economic team's] personalities, philosophies and previous experiences with one another shaped their interactions and the policy-making process." —Michiko Kakutani, The New York Times



"A Woodwardian account of infighting in the White House's economics team . . . Scheiber is a smart, clear-eyed reporter who frames his arguments elegantly." —Bloomberg Businessweek



"The Escape Artists is a compelling narrative, deeply reported and beautifully written." —Jonathan Chait, New York



"Diligently reported and informative." —John Cassidy, The New Yorker



"The Escape Artists reads like a Bob Woodward book—albeit better written and informed by a more sophisticated understanding of economics and policymaking." —Daniel Gross, Yahoo! Finance



"Noam Scheiber offers a persuasive take on administration policymaking . . . [and] provides a template for future administrations—even a future Obama administration—to avoid the trap of thinking too narrowly and too politically in a crisis." —Matthew Yglesias, Slate



"What Scheiber offers is a judicious, nuanced and ultimately . . . persuasive chronicle of how contentious experts jockeyed to influence a young president stuck with an almost impossible set of chal­lenges. . . . Such sophisticated analysis of how the nation's most powerful officials think—however one regards the wisdom of that thinking—distinguishes Scheiber's book." —Paul M. Barrett, The New York Times Book Review



"The Escape Artists offers great insight into Obama's self-perception. . . . Scheiber's reporting has naturally sparked a great deal of second-guessing in Democratic circles, and his book will provide plenty of ammunition for the president's liberal critics . . . [and] to those critics on the right who believed that the White House never really earned their trust." —Reihan Salam, The Daily