Last Words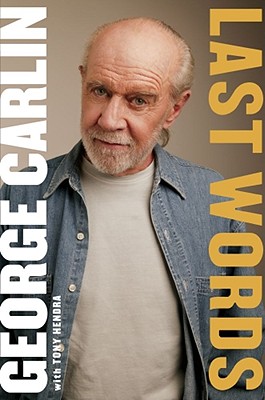 Last Words
Free Press, Hardcover, 9781439172957, 320pp.
Publication Date: November 10, 2009
* Individual store prices may vary.
Buy at Local Store
Enter your zip code below to purchase from an indie close to you.
or
Not Currently Available for Direct Purchase
Description
As one of America's preeminent comedic voices, George Carlin saw it all throughout his extraordinary fifty-year career and made fun of most of it. Last Words is the story of the man behind some of the most seminal comedy of the last half century, blending his signature acer-bic humor with never-before-told stories from his own life.
In 1993 George Carlin asked his friend and bestselling author Tony Hendra to help him write his autobiography. For almost fifteen years, in scores of conversations, many of them recorded, the two discussed Carlin's life, times, and evolution as a major artist. When Carlin died at age seventy-one in June 2008 with the book still unpublished, Hendra set out to assemble it as his friend would have wanted. Last Words is the result, the rollicking, wrenching story of Carlin's life from birth -- literally -- to his final years, as well as a parting gift of laughter to the world of comedy he helped create.
George Carlin's journey to stardom began in the rough-and-tumble neighborhood of New York's Upper West Side in the 1940s, where class and culture wars planted the seeds for some of his best known material, including the notorious "Seven Words You Can Never Say On Television." His early conflicts, his long struggle with substance abuse, his turbulent relationships with his family, and his triumphs over catastrophic setbacks all fueled the unique comedic worldview he brought to the stage. From the heights of stardom to the low points few knew about, Last Words is told with the same razor-sharp honesty that made Carlin one of the best loved comedians in American history.
About the Author
Tony Hendra was recently described by The Independent of London as "one of the most brilliant comic talents of the post-war period" He began his comedic career with Graham Chapman of Monty Python, appeared six times on the Ed Sullivan Show, was one of the original editors of National Lampoon, edited the classic parody Not The New York Times, starred in This Is Spinal Tap, and co-created and co-produced the long-running British satirical series Spitting Image for which he was nominated for a British Academy Award. He has written or edited dozens of books, most of them satirical, with the exception of two New York Times bestsellers: Brotherhood (2001) and Father Joe (2004). He is a senior member of the Board of the nation-wide story-telling community, The Moth.
Tuesday, Nov 17, 2009
Before his death in June 2008, comedian George Carlin spent 10 years working on a memoir, Last Words, with his longtime friend Tony Hendra. Hendra, a writer and comedian, talks with Rebecca Roberts about Carlin's life and legacy. More at NPR.org