A Most Dangerous Profession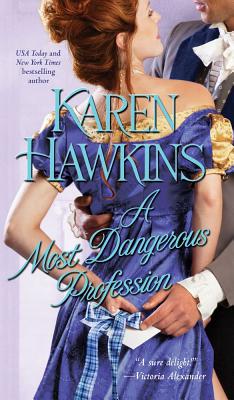 A Most Dangerous Profession
Pocket Books, Mass Market Paperbound, 9781439175941, 349pp.
Publication Date: October 18, 2011
* Individual store prices may vary.
Not Currently Available for Direct Purchase
or
Shop Local
Enter your zip code below to purchase from an indie close to you.
Description
"Mysterious, elusive, unforgettable." "The Hurst Amulet continues to lure lovers into peril as "New York Times "bestselling author Karen Hawkins spins her newest scintillating tale of danger and desire."
"AN ENTRANCING THIEF"
For beautiful, seductive Moira MacAllister, the stakes have become terrifyingly high. Her daughter has been abducted and a priceless ancient relic is the ransom. Moira must acquire it at any cost, even if it means confronting the man she once duped and left, a man who still doesn't know she has a child . . . and that he is the father.
"A DASHING RAKEHELL"
Robert Hurst, an operative in the king's service, has never forgiven the mysterious spy who seduced him into marriage and then disappeared without a trace. Now, as he pursues the onyx box that will save his brother's life, their paths cross again. But Robert isn't sure which he longs for more--to satisfy his lust for revenge or to quench his relentless hunger for this bewitching woman.
"A PERILOUS MISSION"
When Moira reveals to Robert her long-kept secret, however, he realizes his burning desires must wait as a treacherous foe closes in, threatening all they hold dear . . . and their second chance at love.
About the Author
Karen Hawkins isa "USA TODAY" and "New York Times "bestselling author of some of the funniest and freshest fairytale-based Scottish romances. When not stalking hot Australian actors, getting kicked out of West Virginia thanks to the antics of her extended family, or adding to her considerable shoe collection, Karen is getting chocolate on her keyboard while writing her next delightfully fun and sexy historical romance!
Praise For A Most Dangerous Profession…
"One thrilling adventure after another keeps A Most Dangerous Profession spellbinding and results in overall captivation." - Single Titles Reviews
"If you're looking for a guaranteed-good-time-read, A Most Dangerous Profession is the book for you!" -- The Romance Dish
"A Most Dangerous Profession is a charming and witty story that is sure to capture your heart!" -- My Book Addiction Reviews