The Dark Side of Innocence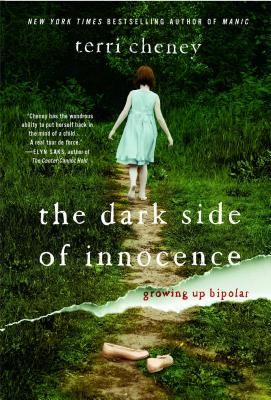 The Dark Side of Innocence
Growing Up Bipolar
Atria Books, Paperback, 9781439176245, 277pp.
Publication Date: March 13, 2012
* Individual store prices may vary.
Buy at Local Store
Enter your zip code below to purchase from an indie close to you.
or
Buy Here
Description
Now in paperback from the New York Times bestselling author of Manic--a gripping and eloquent account of the unfolding of her debilitating bipolar disorder during her childhood.
The New York Times bestselling author blends a pitch-perfect childlike voice with keen adult observation as she shares her heartrending, groundbreaking insider's look into the fascinating and frightening world of childhood bipolar disorder.
Starting with her first suicide attempt at age seven, Terri Cheney was held hostage by her roller-coaster moods, veering from easy A-pluses to total paralysis, from bouts of obsessive hypersexuality to episodes of alcoholic abandon that nearly cost her her life. On the outside, her world appeared perfect. She was pretty and smart, an academic superstar and popular cheerleader. Yet her inner world was chaos, a well-guarded secret too troubling, too painful to fathom even thirty years later in her bestselling memoir, Manic, which was lauded as "chilling" and "brilliant" by People. In The Dark Side of Innocence, her eye-opening follow-up, Terri shares her poignant and compelling journey from a childhood of disaster and despair to hope and survival, an informative first-person account of a dark beast that preys on a staggering one million children.
About the Author
Terri Cheney, once a successful entertainment attorney, now devotes her advocacy talents to the cause of mental illness. Her writings about bipolar disorder have been featured in countless articles and popular blogs. She resides in Los Angeles.
Praise For The Dark Side of Innocence…
"Cheney's chilling account of her struggle with bipolar disorder brilliantly evokes the brutal nature of her disease. . .Edgy, dark and often cynical, Manic is not an easy book to read, but it has heart and soul to spare." — People


"The Dark Side of Innocence is a magnificent depiction of the ravages of bipolar illness in childhood. Cheney has the wondrous ability to put herself back in the mind of a child, and we feel with her the exhilarating highs and desperate lows, as well as the terrifying confusion created by an illness for which she had no name...In an age when more and more people recognize that bipolar disorder may affect children too, Cheney's intensely personal account provides much-needed hope and understanding about a highly stigmatized illness. A real tour de force." —Elyn Saks, author of The Center Cannot Hold: My Journey Through Madness, and recipient of the 2009 MacArthur Award



"Rewind the life of any adult with bipolar and you will find a childhood we would all desperately like to forget. Terri Cheney unflinchingly remembers…at long last, someone with the courage to break the silence." —John McManamy, author of Living Well with Depression and Bipolar Disorder



"Eloquent, riveting…a tale that is hard to set aside." —Ed Renehan, author of The Lion's Pride



"This will be big." —Library Journal



"Once again, Terri Cheney has written an educational but bittersweet book that moved me deeply." —Muffy Walker, MSN, MBA, President, International Bipolar Foundation



"As the father of an adult son with a severe mental illness, I found myself choking with emotion as I read Terri Cheney's riveting and illuminating account of her childhood growing-up with bipolar disorder. What did I miss as a loving father? Were there signs? Could I have saved my son? Cheney provides us with important insights from the eyes of the most innocent among us—our very own children." —Pete Earley, New York Times bestselling author of CRAZY: A Father's Search Through America's Mental Health Madness



"Her story is a sound first step toward understanding your child's pain and finding solutions." —Publishers Weekly



"Cheney gives us a poignant, enlightening view of her struggles as a child." —The Daily Beast