Monkey Mind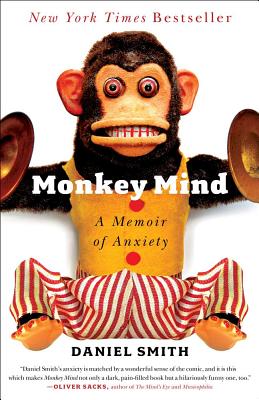 Monkey Mind
A Memoir of Anxiety
Simon & Schuster, Hardcover, 9781439177303, 212pp.
Publication Date: July 3, 2012
* Individual store prices may vary.
Buy at Local Store
Enter your zip code below to purchase from an indie close to you.
or
Not Currently Available for Direct Purchase
Description
In the insightful narrative tradition of Oliver Sacks, Monkey Mind is an uplifting, smart, and very funny memoir of life with anxiety--America's most common psychological complaint.
Daniel Smith's Monkey Mind is the stunning articulation of what it is like to live with anxiety. As he travels through anxiety's demonic layers, Smith defangs the disorder with great humor and evocatively expresses its self-destructive absurdities and painful internal coherence. Aaron Beck, the most influential doctor in modern psychotherapy, says that "Monkey Mind does for anxiety what William Styron's Darkness Visible did for depression." Neurologist and bestselling writer Oliver Sacks says, "I read Monkey Mind with admiration for its bravery and clarity....I broke out into explosive laughter again and again." Here, finally, comes relief and recognition to all those who want someone to put what they feel, or what their loved ones feel, into words.
About the Author
Daniel Smith is the author of Muses, Madmen, and Prophets and a contributor to numerous publications, including The American Scholar, The Atlantic, The New York Times Magazine, and Slate.
Praise For Monkey Mind…
"I read Monkey Mind with admiration for its bravery and clarity. Daniel Smith's anxiety is matched by a wonderful sense of the comic, and it is this which makes Monkey Mind not only a dark, pain-filled book but a hilariously funny one, too. I broke out into explosive laughter again and again."

-Oliver Sacks


"Monkey Mind does for anxiety what William Styron's Darkness Visible did for depression."

-Aaron T. Beck, father of cognitive therapy


"You don't need a Jewish mother, or a profound sweating problem, to feel Daniel Smith's pain in Monkey Mind. His memoir treats what must be the essential ailment of our time—chronic anxiety—and it does so with wisdom, honesty, and the kind of belly laughs that can only come from troubles transformed."

-Chad Harbach


"Daniel Smith maps the jagged contours of anxiety with such insight, humor and compassion that the result is, oddly, calming. There are countless gems in these pages, including a fresh take on the psycho-pathology of chronic nail biting, an ill-fated ménage a trois—and the funniest perspiration scene since Albert Brooks' sweaty performance in Broadcast News. Read this book. You have nothing to lose but your heart palpitations, and your Xanax habit."

-Eric Weiner


"I don't know Daniel Smith, but I do want to give him a hug. His book is so bracingly honest, so hilarious, so sharp, it's clear there's one thing he doesn't have to be anxious about: Whether or not he's a great writer."

-A.J. Jacobs


"Daniel Smith has a written a wise, funny book, a great mix of startling memoir and fascinating medical and literary history, all of it delivered with humor and a true generosity of spirit. I only got anxious in the last part, when I worried the book would end."

-Sam Lipsyte


"In this unforgettable, surprisingly hilarious memoir, journalist and professor Smith chronicles his head-clanging, flop-sweating battles with acute anxiety. . . . He's clear-eyed and funny about his condition's painful absurdities."



"This book will change the way you think about anxiety…. Daniel Smith's writing dazzled me….. Painful experiences are described with humor, and complex ideas are made accessible…. Monkey Mind is a rare gem."



"Monkey Mind is fleet, funny, and productively exhausting."

-Ben Greenman


"Superb writing [and] marvelous humor . . . If you're chronically anxious and want to better explain to a loved one what you're going through, hand them Monkey Mind."
Friday, Aug 10, 2012
The Science Friday Book Club reconvenes this week to talk about Monkey Mind--writer Daniel Smith's personal account of his severe anxiety. Kirkus Reviews calls the book "a true treasure-trove of insight laced with humor and polished prose." Call in and share your review. Peer into the anxious mind of writer Daniel Smith with the SciFri Book Club. More at NPR.org