InSideOut Coaching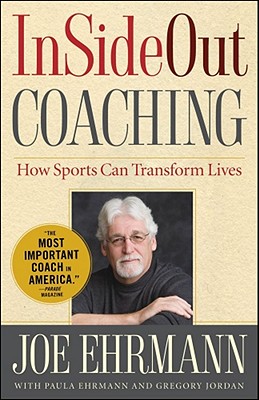 InSideOut Coaching
How Sports Can Transform Lives
Simon & Schuster, Hardcover, 9781439182987, 262pp.
Publication Date: August 2, 2011
* Individual store prices may vary.
Buy at Local Store
Enter your zip code below to purchase from an indie close to you.
or
Buy Here
Description
In this inspirational yet practical book, the man "Parade "called the most important coach in America, subject of the national bestseller "Season of Life, "Joe Ehrmann, describes his coaching philosophy and explains how sports can transform lives at every level of play, from the earliest years to professional sports.
Coaches have a tremendous platform, says Joe Ehrmann, a former Syracuse University All-American and NFL star. Perhaps second only to parents, coaches can impact young people as no one else can. But most coaches fail to do the teaching, mentoring, even life-saving intervention that their platform provides. Too many are transactional coaches; they focus solely on winning and meeting their personal needs. Some coaches, however, use their platform. They teach the Xs and Os, but also teach the Ys of life. They help young people grow into responsible adults; they leave a lasting legacy. These are the transformational coaches. These coaches change lives, and they also change society by helping to develop healthy men and women.
"InSideOut Coaching "explains how to become a transformational coach. Coaches first have to go inside and articulate their reasons for coaching. Only those who have taken the InSideOut journey can become transformational. Joe Ehrmann provides examples of coaches in his life who took this journey and taught him how to find something bigger than himself in sports.He describes his own InSideOut experience, starting with the death of his beloved brother, which helped him understand how sports could transcend the playing field. He gives coaches the information and the tools they need to become transformational.
Joe Ehrmann has taken his message about the extraordinary power of sports all over the country. It has been warmly endorsed by NFL head coaches, athletic directors at major universities, high school head coaches, even business groups and community organizations. Now any parent-coach or school or community coach can read Ehrmann's message and learn how to make sports a life-changing experience.
About the Author
Joe Ehrmann is a former Baltimore Colts defensive lineman and cofounder of Coach for America. He lives in Baltimore, Maryland.

Paula Ehrmann is a licensed, clinical, professional counselor with over twenty years of experience in psychotherapeutic treatment. She runs a private practice, Paula Ehrmann & Associates, LLC, and iscofounder of Coach for America and of Building Men and Women for Others, Inc.

Gregory Jordan is a writer from Baltimore and the coauthor of Dare to Prepare.
Praise For InSideOut Coaching…
"Joe Ehrmann has a great message that coaches and young people really need to hear. . . . He has had a tremendous impact on our team, helping us to develop championship men on and off the field."
—Tony Dungy, author of Quiet Strength




"Joe is a special person who has dedicated his life to helping young people. His message is powerful and makes a true impact. It is a message that we can all learn from."
—Baseball Hall of Famer Cal Ripken, Jr.



"Joe Ehrmann's message is inspiring, educational and eye-opening. He is an inspiration to me!"
—Jay Wright, Head Men's Basketball Coach, Villanova University



"I highly encourage you to seize the opportunity to listen to these important values and concepts, which need to be applied to our society's most important resource—our youth."
—Joseph Castiglione, Director of Athletics, University of Oklahoma



"This is a must read for all coaches, athletic directors, and parents."
—Dr. Jeanette Boxill, Ph. D., Director, Parr Center for Ethics, University of North Carolina