Hope Unseen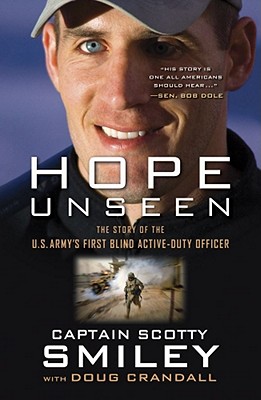 Hope Unseen
The Story of the U.S. Army's First Blind Active-Duty Officer
Howard Books, Hardcover, 9781439183793, 243pp.
Publication Date: September 14, 2010
* Individual store prices may vary.
Buy at Local Store
Enter your zip code below to purchase from an indie close to you.
or
Not Currently Available for Direct Purchase
Description
Blindness became Captain Scotty Smiley's journey of supreme testing. As he lay helpless in the hospital, he resented the theft of his dreams becoming a CEO, a Delta Force operator, or a four-star general.
With his wife Tiffany's love and the support of his family and friends, Scotty's response became God's transforming moment. The injury only intensified his indomitable spirit. Since the moment he jumped out of a hospital bed and forced his way through nurses and cords to take a simple shower, Captain Scotty Smiley has climbed Mount Rainier, won an ESPY as Best Outdoor Athlete, surfed, skydived, become a father, earned an MBA from Duke, taught leadership at West Point, commanded an army company, and won the MacArthur Leadership Award.
Scotty and Tiffany Smiley have lived out a faith so real that it will inspire you to question your own doubts, push you to serve something bigger than yourself, and encourage you to cling to a Hope Unseen.
About the Author
Captain Scotty Smiley is the Army's only active-duty blind officer. He lost the use of both eyes when a car bomber blew himself up in front of Scotty's vehicle. A recipient of the bronze star and Purple Heart, he currently teaches the core course in leadership at West Point. Scotty and his wife Tiffany are the proud parents of two young children.
Doug Crandall is a graduate of West Point and the Stanford Graduate School of Business. He has led multiple units in the Army, and spent time in operations at Amazon.com. For five years, Doug taught leadership, advanced leadership, and Leading Organizations through Change at West Point, where he won the Excellence in Teaching Award and exceeded the academy average in every area of teaching feedback during each semester he taught. He's the co-author of two books-"Hope Unseen" and "Leadership Lessons from West Point"-which have sold over 50,000 copies world-wide. He has been published in the "International Journal of Servant Leadership" and written case studies for both Stanford and Harvard's business schools. Doug has delivered leadership development to Stanford, Wharton, Columbia, Cornell, Duke, Michigan, GE, Walmart, McDonald's, Amazon, IBM, and many others-both in the US and abroad. Coach Crandall also leads one of the top AAU basketball teams in Washington State: Subway Select.
Matt Kincaid holds an MBA and a PhD in leadership studies from Gonzaga University. He has led the efforts of three startup companies and worked as a business consultant, managing strategic planning projects for an array of Fortune 500 companies. As a tenured Associate Professor of business and leadership, Matt is consistently top-rated by his students and peers, with several of his evaluations scoring amongst the highest in his college's fifty year history. Matt's work on servant-leadership has been published internationally and he has been featured in two widely distributed business textbooks. He has delivered leadership development programs, workshops and talks to Mission Support Alliance, McDonald's, the U.S. Department of Energy, Lockheed, the Hanford Patrol Management team, and many others.
Praise For Hope Unseen…
"Scotty Smiley's story is one all Americans should hear. It will inspire them in tough times and help them through some of the difficult challenges they face in life."

-Senator Bob Dole


"I have known Scotty Smiley for nearly ten years—since the beginning of his friendship with my son Edward at West Point. He was a role model for our family before his injury, and his impact on us has only grown since that day in Mosul. Scotty has an incredible story to tell and God is using him in a remarkable way. All of the Grahams look forward to reading and sharing Scotty's story with millions."

-Franklin Graham


"Scotty Smiley is an American Hero! Scotty and Tiffany have been an inspiration to the Duke Community, to Team USA Basketball, and to me personally. He shared his story with our Olympic Gold Medal– winning basketball team, and now he shares it with all of us to show how character ultimately wins."

-Coach Mike Krzyzewski


"Scotty's story has not only motivated me to trust in the Lord, but also to make the most of all circumstances in life, good and bad. Scotty is the epitome of the old adage, 'when life hands you a lemon, make lemonade.' Life handed him a gigantic lemon and he's in turn trusted God and is making lemonade by the barrel. I look forward to helping spread his example to people everywhere."

-Tyler Brayton, Defensive Lineman, Carolina Panthers


"Beyond the extraordinary courage and hope and faith in God that this book brought to life, it was just impossible to put down. Riveting."

-Patrick Lencioni, president of The Table Group; author of The Five Dysfunctions of a Team


"It's been said, 'The worth of one's character is measured by the trial of adversity.' Hope Unseen is a compelling, inspiring, true story about courage, faith, and character revealed. You'll never want to complain about your circumstances again!"

-LTG R. L. VanAntwerp, US Army


"I love a great story, and the story of Scotty Smiley is not only a great story of a true hero, but this gem is so well written that you will cry, laugh, and cheer as you turn the pages."

-Dave Ramsey, New York Times bestselling author


"Captain Scotty Smiley was put to the ultimate test of faith and passed with flying colors, turning what was intened for evil into good. His determination to overcome and to allow God to be honored in the telling of his story is richly conveyed through this book."

-Steven Curtis Chapman, Grammy Award–winning artist, and Mary Beth Chapman