Kings of Colorado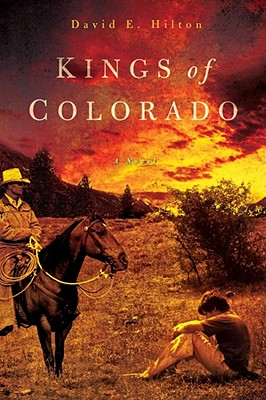 Kings of Colorado
Simon & Schuster, Hardcover, 9781439183823, 288pp.
Publication Date: January 11, 2011
* Individual store prices may vary.
Shop Local
Enter your zip code below to find indies closest to you.
Description
A heartfelt portrait of a bygone age.
William Sheppard had never ventured beyond his Chicago neighborhood until, at thirteen, he was sent away to the Swope Ranch Boys' Reformatory, hundreds of miles from home, for stabbing his abusive father in the chest with a pocketknife. Buried deep in the Colorado mountains, Swope is shrouded in legend and defined by one prevailing rumor: that the boys who go in never come out the same.
Despite the lack of fences or gates, the boundaries are clear: prisoners are days from civilization, there exists only one accessible road—except in the wintertime, when it's buried under feet upon feet of snow, and anyone attempting escape will be shot down without hesitation in the shadow of the peaks. At 13,000 feet above sea level, the mountains aren't forgiving, and neither are the guards.
With twenty-four months of hard time ahead of him, Will quickly learns to distinguish his allies from his enemies. He also learns about the high price of a childhood lost. At Swope, herds of mustangs are trucked in to be broken by a select group of inmates. Once the horses are gentled, they are sold to ranchers and landowners across the Southwest. Horses come and go, delinquent boys come and go. The boys break the horses, Swope Reformatory breaks the boys. Throughout this ordeal, Will discovers three others who bring him into their inner circle. They are life preservers in a sea of violence and corruption.
But if the boys are to withstand the ranch, they must first overcome tragedy and death—a feat that could haunt them for years to come.
About the Author
David E. Hilton earned a bachelor's degree from Howard Payne University in 1998. He wrote Kings of Colorado mostly in his apartment's stairwell just after the birth of his first son. He spends his spare time either writing or training his miniature dachshund to run in the annual Buda Weiner Dog Races. He lives just outside Austin.
Praise For Kings of Colorado…
"As heart-wrenching as The Outsiders and as compelling as This Boy's Life, Kings of Colorado is a coming-of-age story that grabs you from the first sentence and takes you on an intense but rewarding journey. David E. Hilton's powerful and riveting debut is a must-read."
—Garth Stein, New York Times bestselling author of The Art of Racing in the Rain

"Set in the magnificent Colorado mountains, this coming-of-age tale provides scenes of gripping action as well as a sympathetic yet unvarnished look into the lives of troubled teens. It should appeal to thoughtful young adults and to those who still remember being one."
—Library Journal

"Heartbreaking portrayal of innocence lost in the most profound sense. A former middle school teacher, Hilton clearly understands the struggle of adolescence, and he interrogates that struggle with finesse and admirable curiosity by pushing his characters to their most extreme limits. Will and his compatriots are achingly sympathetic, and their bond with each other and communal will to survive is riveting and thought-provoking."
—Bookpage

"David E. Hilton's Kings of Colorado, a book that [is] equal parts Annie Proulx and Larry McMurtry set in Colorado in the 1960s."
—Dallas Morning News

"Hard, sad, stirring, poignant, and utterly beautiful. Hilton has written a coming of age story that will be remembered for its characters as well as its harrowing plot."
—Naseem Rakha, international bestselling author of The Crying Tree

"A heartfelt portrait of young men in a bygone age."
—Kirkus Reviews

"For years I have searched for an heir to Golding's Lord of the Flies, and this is it. But in Kings of Colorado, Hilton allows you to look into these characters and see that redemption is possible. The story of all things wild—wild horses, wild boys, and the wild landscape that looms above it all—this book is as heartbreaking and as hopeful as anything you will read this year. A fine novel."
—Will Lavender, New York Times bestselling author of Obedience

"Hilton's writing is brutal and poetic, his images haunting. A raw and powerful debut."
—Noah Charney, international bestselling author of The Art Thief and Stealing the Mystic Lamb

"Hilton's portrayal of adolescent friendship is authentic and touching, and the story moves at a speedy pace as the boys' innocence is shattered in ever deeper and more profound ways. . . .A sort of Stand by Me behind bars."
—Publishers Weekly