A Grand Complication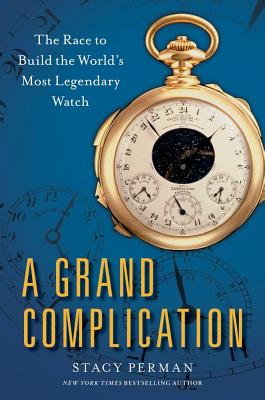 A Grand Complication
The Race to Build the World's Most Legendary Watch
Atria Books, Hardcover, 9781439190081, 343pp.
Publication Date: February 19, 2013
* Individual store prices may vary.
Buy Now
or
Shop Local
Enter your zip code below to purchase from an indie close to you.
Description
"New York Times" bestselling author Stacy Perman chronicles the thrilling pursuit between two ambitious men in the early 1900s to possess" "the most complicated timepiece in history.
Two wealthy, powerful men engage in a decades-long contest to create and possess the most remarkable watch in history.
James Ward Packard of Warren, Ohio, was an entrepreneur and a talented engineer of infinite curiosity, a self-made man who earned millions from his inventions, including the design and manufacture of America's first luxury car--the elegant and storied Packard. Henry Graves, Jr., was the very essence of blue-blooded refinement in the early 1900s: son of a Wall Street financier, a central figure in New York high society, and a connoisseur of beautiful things--especially fine watches.
Then, as now, expensive watches were the ultimate sign of luxury and wealth, but in the early twentieth century the limitless ambition, wealth, and creativity of these two men pushed the boundaries of mathematics, astronomy, craftsmanship, technology, and physics to create ever more ingenious timepieces.
In any watch, features beyond the display of hours, minutes, and seconds are known as "complications." Packard and Graves spurred acclaimed Swiss watchmaker Patek Philippe to create the Mona Lisa of timepieces--a fabled watch that incorporated twenty-four complications and took nearly eight years to design and build. For the period, it was the most complicated watch ever created. For years it disappeared, but then it surfaced at a Sotheby's auction in 1999, touching off a heated bidding war, shattering all known records when it fetched $11 million from an anonymous bidder.
"New York Times "bestselling author Stacy Perman takes us from the clubby world of New York high society into the ateliers of the greatest Swiss watchmakers, and into the high-octane, often secretive subculture of modern-day watch collecting. With meticulous research, vivid historical details, and a wealth of dynamic personalities, "A Grand Complication "is the fascinating story of the thrilling duel between two of the most intriguing men of the early twentieth century. Above all, it is a sweeping chronicle of innovation, the desire for beauty, and the lengths people will go to possess it.
About the Author
Stacy Perman is an award-winning journalist and author. A former writer and correspondent for BusinessWeek and Time, her work has appeared in Los Angeles magazine, the Los Angeles Times, the Wall Street Journal, and many other publications. Born in Los Angeles, she currently lives in New York.