Rin Tin Tin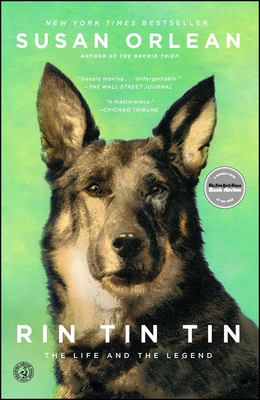 Rin Tin Tin
The Life and the Legend
Simon & Schuster, Paperback, 9781439190142, 352pp.
Publication Date: October 9, 2012
* Individual store prices may vary.
Buy at Local Store
Enter your zip code below to purchase from an indie close to you.
or
Buy Here
Description
One of the most acclaimed nonfiction books of 2011, Susan Orlean's New York Times bestseller Rin Tin Tin is an unforgettable book about the mutual devotion between one man and one dog (The Wall Street Journal).
He believed the dog was immortal. So begins Susan Orlean's sweeping, powerfully moving account of Rin Tin Tin's journey from abandoned puppy to movie star and international icon. Spanning almost one hundred years of history, from the dog's improbable discovery on a battlefield in 1918 to his tumultuous rise through Hollywood and beyond, Rin Tin Tin is a love story about "the mutual devotion between one man and one dog" (The Wall Street Journal) that is also a quintessentially American story of reinvention, a captivating exploration of our spiritual bond with animals, and a stirring meditation on mortality and immortality.
Praise For Rin Tin Tin…
"Deeply moving . . . Unforgettable."



"A masterpiece."



"Magnificent."



"Epic . . . Heartfelt . . . An enormously satisfying story about a dog and the man who believed in him."

-Carol Memmott


"Fascinating . . . Sweeping . . . Expertly told . . . [Orlean] may persuade even the most hardened skeptic that Rin Tin Tin belongs on Mount Rushmore with George Washington and Teddy Roosevelt, or at least somewhere nearby with John Wayne and Seabiscuit."

-Jennifer Schuessler


"A story of magnificent obsession. Nearly a decade in the making, combining worldwide research with personal connection, it offers the kind of satisfactions you only get when an impeccable writer gets hold of one heck of a story."

-Kenneth Turan


"Stunning . . . Truly exceptional . . . A book so moving it melted the heart of at least this one dogged Lassie lover . . . . Calling Rin Tin Tin the story of a dog is like calling Moby-Dick the story of a whale."

-Meredith Maran


"Susan Orlean has written a book about how an orphaned dog became part of millions of households, and hearts, in a way that may reveal the changing bonds between humans and animals, too. . . . One of the many pleasures of this book is the historical breadth of the story."

-Scott Simon


"An improbably fascinating tale of one of the first canine celebrities, the times that catapulted him to fame, and the legacy that endures."



"Brilliant . . . If there were any book she was born to write, it's this one. The product of years of dogged research, it's her magnum opus, a work filled with fascinating stories . . . [and] stunning prose that is both compassionate and perceptive."

-Michael Schaub