E Is for Environment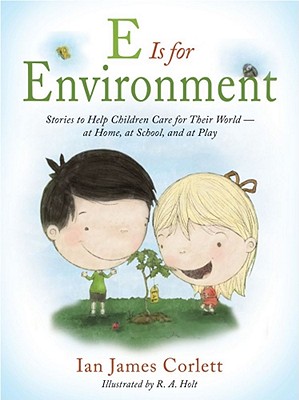 E Is for Environment
Stories to Help Children Care for Their World--at Home, at School, and at Play
Atria Books, Hardcover, 9781439194553, 128pp.
Publication Date: February 22, 2011
* Individual store prices may vary.
Buy at Local Store
Enter your zip code below to purchase from an indie close to you.
or
Not Currently Available for Direct Purchase
Description
These days, there's a lot of talk about being green, buying organic, and protecting our planet. But making eco-friendly choices can be hard for busy families, and helping kids think about their earth's future is no easy task. Luckily, Ian James Corlett—an award-winning children's TV writer and author of E IS FOR ETHICS—is back with a guide that makes saving the environment a fun family adventure. Best of all, Elliott and Lucy—who made values and morals so accessible in E IS FOR ETHICS—are here to help.
Like your own kids, Elliott and Lucy wanted to be good to the environment, but sometimes, they could get a bit careless.
They kept the water running when they brushed their teeth.
They didn't turn off the lights when they left a room.
They loved using lots of paper when they did arts and crafts.
In these stories, Elliott and Lucy learn that being good to the environment isn't a big chore—it's actually pretty cool! (And they get to teach Mom and Dad a thing or two along the way). With this engaging, read-together book, families will see that the small things they do every day can make a big impact. Teaching your children about the planet has never been so easy or entertaining—and before you know it, they'll be reminding YOU to recycle!
About the Author
Ian James Corlett is the author of E IS FOR ETHICS and E IS FOR ENVIRONMENT. He is well known in the world of children's television and has created, written for, and/or developed many popular children's series, such as The Adventures of Paddington Bear, Rolie Polie Olie, Will & Dewitt, and his namesake series, Being Ian. Ian is also a renowned voice actor. He is the voice for literally hundreds of animated characters as diverse as Baby Taz of the Baby Looney Tunes and Dad in Johnny Test. The father of two and husband of one for more than twenty-five years, he currently resides in Vancouver, British Columbia, and Palm Springs, California.
R.A. "Riley" Holt is a Canadian illustrator, designer, and artist who lives in Vancouver. Riley is proficient in a wide range of styles and uses many different mediums in his broad spectrum of artwork.