The Mother Who Stayed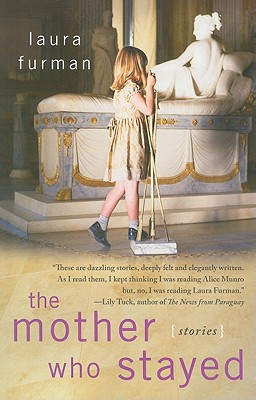 The Mother Who Stayed
Stories
Free Press, Paperback, 9781439194652, 212pp.
Publication Date: February 1, 2011
* Individual store prices may vary.
Buy Now
or
Shop Local
Enter your zip code below to purchase from an indie close to you.
Description
In nine strikingly perceptive stories set miles and decades apart, Laura Furman mines the intricate, elusive lives of mothers and daughters—and of women who long for someone to nurture. Meet Rachel, a young girl desperate for her mother's unbridled attention, knowing that soon she'll have to face the world alone; Marian, a celebrated novelist who betrays the one person willing to take care of her as she is dying—her unclaimed "daughter"; and Dinah, a childless widow uplifted by the abandoned, century-old diaries of Mary Ann, a mother of eleven.

The Mother Who Stayed is an homage to the timeless, primal bond between mother and child and a testament that the relationships we can't define can be just as poignant, memorable, and inspiring as those determined by blood. Tender and insightful, Furman's stories also bravely confront darker realities of separation and regret, death and infidelity—even murder. Her vividly imagined characters and chiseled prose close the gap between generations of women as they share their wisdom almost in chorus: Although our lives will end, we must cherish the sanctity of each day and say, as did Mary Ann ages ago, "I done what I could."
About the Author
Laura Furman was born in New York, and educated in New York City public schools and at Bennington College. Her first story appeared in "The New Yorker" in 1976, and since then her work has been published in many magazines, including "Yale Review, ""Southwest Review, Ploughshares, American Scholar, ""Preservation, House & Garden, " and other magazines. Her books include three collections of short stories", "two novels, ""and a memoir. She is the recipient of fellowships from the New York State Council on the Arts, the Dobie Paisano Project, the Guggenheim Foundation, and the National Endowment for the Arts. She has received grants in residency at Yaddo in Saratoga Springs, N.Y., and in 2009 she was a visiting artist at the American Academy in Rome. She taught for many years in the Department of English at the University of Texas at Austin. Series editor of "The PEN/O.Henry Prize Stories "since 2002, Furman selects the twenty winning stories each year. She lives in Central Texas.""
Praise For The Mother Who Stayed…
"These are dazzling stories, deeply felt and elegantly written. As I read them, I kept thinking I was reading Alice Munro but, no, I was reading Laura Furman."—Lily Tuck, author of the National Book Award-winning The News from Paraguay

"Furman, as any good artist must, shows us not just how to read but how we might live." —San Francisco Chronicle

"There are no false notes anywhere in this collection….suffused with a deep sense of what abides."—Booklist

"Furman's prose ambles sinuously, in unexpected directions, and has a quiet, sure effect." —Publishers Weekly

"...Furman presents angles and aspects of a story. Like a carefully cut and polished diamond, the sides and viewpoints we are presented with leave us with a dazzling object….the multiple entries we are allowed into each story expand the dimensionality. We are no longer only within a page, a sentence, a word—but a world." —Electric Literature

"Furman's collection rings a resounding note: that the ordinary events of a life hold extraordinary power, reverberating for years hereafter, shaping inner worlds and the next generation."—The Rumpus

"Stories of incredible grace and heft from materials as humble as they come: the dips and turns of family life. The real revelation of stories like these is that humble material rarely is. Narratives that pivot on failed mother-daughter relationships are conveyed in a concerto form that permits motifs to twist and mimic each other. Each trio—the book might be better described as a series of novellas—turns a parade of divorces and picnics into an echo chamber, sounding the depths of the ordinary and asserting that what happens to us, however small, matters big time....The delivery is all Alice Munro, a clear-eyed account of the regrets that swell up under the superficial....This collection is lifelike in the most ruthless and wonderful sense—it defies tidy homilies but delivers the visceral goods."—The Austin Chronicle

"No book could be more beautifully formed or more deeply satisfying than The Mother Who Stayed, with its stories in sets, expanding and correcting each other, offering surprises. With unflinching accuracy, Laura Furman has traced versions of mothering—simulated, lacking, and real—in rich, precise fiction."—Joan Silber, author of The Size of the World and Ideas of Heaven

"In these powerful and exquisite stories, Laura Furman pieces words together like shapes in a gorgeous crazy quilt. Each character and setting is so vividly realized that by the last page I knew these women and could imagine finding their homes without a map. I loved this book and, like the best fiction, it has changed me."—Julie Metz, author of The New York Times bestselling memoir Perfection

"I love these stories. They read like a cycle of songs—gorgeous, moving, and making sense, somehow, of the mad complexity of life. I don't ask for anything more in a book."—Lynn Freed, author of The Servants' Quarters