The Mistress of Nothing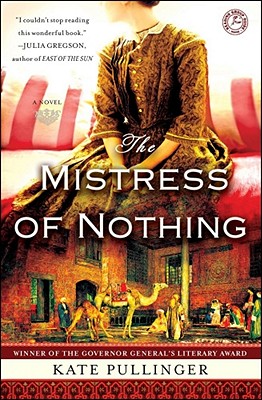 The Mistress of Nothing
Touchstone Books, Paperback, 9781439195055, 250pp.
Publication Date: August 23, 2011
* Individual store prices may vary.
Buy at Local Store
Enter your zip code below to purchase from an indie close to you.
or
Not Currently Available for Direct Purchase
Description
The American debut of an award-winning novel about a lady's maid's awakening as she journeys from the confines of Victorian England to the uncharted far reaches of Egypt's Nile Valley
When Lady Duff Gordon, paragon of London society, departs for the hot, dry climate of Egypt to seek relief from her debilitating tuberculosis, her lady's maid, Sally, doesn't hesitate to leave the only world she has known in order to remain at her mistress's side. As Sally gets farther and farther from home, she experiences freedoms she has never known--forgoing corsets and wearing native dress, learning Arabic, and having her first taste of romance.
But freedom is a luxury that a lady's maid can ill afford, and when Sally's newfound passion for life causes her to forget what she is entitled to, she is brutally reminded she is mistress of nothing. Ultimately she must choose her master and a way back home--or a way to an unknown future.
Based on the real lives of Lady Duff Gordon and her maid, The Mistress of Nothing is a lush, erotic, and compelling story about the power of race, class, and love.
Praise For The Mistress of Nothing…
"A highly sensual evocation of place and time, Kate Pullinger's The Mistress of Nothing is a journey down the Nile that explores the subtle complexities of power, race, class and love during the Victorian era. The book, narrated by the character of the maid, Sally Naldrett, has one of the most distinctive and memorable voices in recent literature."
~Governor General's Jury Citation


"Tantalizing…Pullinger has done her research.…Sally's observations…bring this lost world to life." –The New York Times Book Review



"The book's commitment to a historical and pragmatic voice is its true gem....A tough story of the unavoidable tragedies and celebrations that three simple, yet extraordinary, lives may yield." -Book Page


"Explores the relationships people form across boundaries….This is a book you can't stop thinking about." -San Francisco Book Review



"Endowing Sally with tremendous character, Pullinger successfully imagines an ordinary life in extraordinary circumstances." –Publishers Weekly



"Romance and tragedy baked in the blistering oven of British morals and prejudice." –Pittsburgh Post-Gazette



"A rich, compelling novel. The story is told...so engagingly that I felt a great loss when I reached the end of the book." –Historical Novels Review



"An interesting story, exploring relationships between mother and child, master and servant, husband and multiple wives, as well as bringing out the political climate of Egypt during the 1800s." –The Oklahoman


"Scorchingly powerful." –Good Housekeeping