Three Stages of Amazement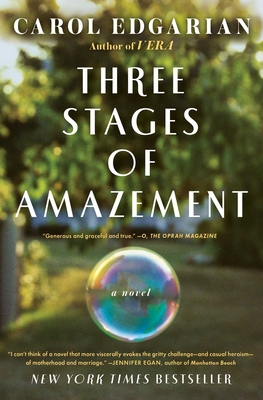 Three Stages of Amazement
Scribner Book Company, Paperback, 9781439198315, 296pp.
Publication Date: February 7, 2012
* Individual store prices may vary.
Buy at Local Store
Enter your zip code below to purchase from an indie close to you.
or
Not Currently Available for Direct Purchase
Description
The New York Times bestseller, now in paperback, a "furiously compelling" (New York Times) and richly compassionate novel about marriage, ambition, and reclaiming of love--by novelist and cofounder of the online fiction magazine Narrative. Set in San Francisco, Three Stages of Amazement takes readers on a spellbinding journey across a landscape of national unease, when the fragility of one marriage reflects the tenuous state of the American Dream. Lena Rusch and her husband, Charlie Pepper, still believe they can have it all--sex, love, marriage, children, career, brilliance. But when life delivers surprises and tests, they must face, for the first time in their lives, real limitation. Told with eloquence and compassion, Three Stages of Amazement is a true thriller of the heart--about confronting adversity, gaining wisdom and finding great love.
About the Author
Carol Edgarian is the author of the bestselling novel Rise the Euphrates and co-editor of The Writer's Life: Intimate Thoughts on Work, Love, Inspiration, and Fame. She is also the co-founder, editor, and publisher of Narrative, an online literary magazine she runs with her husband, Tom Jenks. They live in San Francisco with their three daughters.
Praise For Three Stages of Amazement…
"Edgarian (Rise the Euphrates) spares no emotion in this big, lovely second novel about decent people falling apart under the demands that there be more than 24 hours in a day and more than parental determination to juggle life's realities against the heart's desire."
—Library Journal (starred)



""In what may well be the most serious and the most entertaining domestic novel of the year, San Francisco writer Carol Edgarian delivers a new turn on Tolstoy's old chestnut: "Happy families are alike, but every unhappy family is unhappy in its own way." She calls her book Three Stages of Amazement and sets it in San Francisco toward the end of the "dot com" craze. We meet Lena Rusch, an appealing but harried mother of two whose surgeon husband has been trying, with middling success, to found his own medical device company. The novel deftly dramatizes questions about the essence of married life and throws in a mystery about Lena's origins for good measure. But there's no mystery as to how Edgarian keeps us going - deep insight into human behavior, coupled with the right language to describe it... Beautifully written and deeply engaging."—Alan Cheuse, NPR's All Things Considered



"Both an epic love story and a reflection of social anthropology in America today, Three Stages of Amazement is a gracefully rendered narrative of the inevitable joys and heartaches we face in adulthood… Edgarian's sharp, beautiful prose captures the essence of the human condition in all its pain and glory."—The Daily Beast



"It's been 17 years since Carol Edgarian's best-selling, critically acclaimed first novel, Rise the Eurphrates announced the arrival of a gifted and ambitious young writer. Yet that long pause feels right when you read Three Stages of Amazement, her rueful, wholly adult novel...Edgarian brilliantly evokes the grim daily grind… Superbly crafted, skillfully plotted text… Three Stages of Amazement savors the rich complexity of human beings and the world they negotiate."—Washington Post



"Lush and elegant… Edgarian is an exceptionally gifted and generous storyteller."—Associated Press



"Edgarian beautifully captures the fierceness of this mother's love."—San Francisco Chronicle



"Refreshingly grown-up, this love story follows a couple as they deal with the economic crash, a preemie, and an old flame showing up at just the wrong time."—Good Housekeeping



"What really got my literary pulse racing is Edgarian's most fascinating creation, Lena's estranged uncle, 79-year-old Cal Rusch… This legendary Silicon Valley mogul -- a diabolically clever cross between Steve Jobs and Donald Trump -- sets the pages on fire every time he shows up."—Jocelyn McClurg, USA Today



"Edgarian returns with another potent tale…. The panoramic view Edgarian provides of a culture and people dealing with change is impressive."—Booklist



"Edgarian's novel examines the intricate economies of the modern American marriage... beautiful and as messy and complicated as real life."—The New York Times Book Review