We Learn Nothing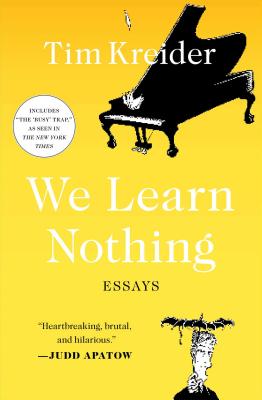 We Learn Nothing
Essays
Simon & Schuster, Paperback, 9781439198711, 232pp.
Publication Date: April 9, 2013
* Individual store prices may vary.
Shop Local
Enter your zip code below to find indies closest to you.
Description
In "We Learn Nothing," satirical cartoonist Tim Kreider turns his funny, brutally honest eye to the dark truths of the human condition, asking big questions about human-sized problems: What if you survive a brush with death and it doesn't change you? Why do we fall in love with people we don't even like? How do you react when someone you've known for years unexpectedly changes genders?
With a perfect combination of humor and pathos, these essays, peppered with Kreider's signature cartoons, leave us with newfound wisdom and a unique prism through which to examine our own chaotic journeys through life. These are the conversations you have only with best friends or total strangers, late at night over drinks, near closing time.
This edition also includes the sensationally popular essay "The Busy Trap," as seen in the "New York Times.
About the Author
Tim Kreider's was born and educated in Baltimore, MD and lives in an undisclosed location on the Chesapeake Bay. His articles have appeared in Film Quarterly and The Comics Journal. His cartoons appear every week in the Baltimore City Paper and the Jackson Planet Weekly. Kreider's books include Twilight of the Assholes, Why Do They Kill Me?, and The Pain When Will It End?