Fake Science 101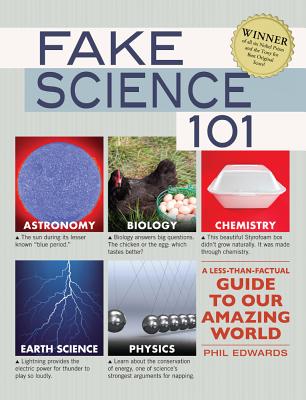 Fake Science 101
A Less-Than-Factual Guide to Our Amazing World
Adams Media Corporation, Paperback, 9781440527012, 272pp.
Publication Date: August 15, 2012
* Individual store prices may vary.
Buy at Local Store
Enter your zip code below to purchase from an indie close to you.
or
Not Currently Available for Direct Purchase
Description
The universe is like a really big world filled with really difficult questions and lots of comets. Fake Science 101 is here to tackle those questions that are too tough to really answer. Like why is the sky blue? Where did the dinosaurs go? And what's with Einstein's hair?
If you love Fake Science on the World Wide Web, you will love it even more on paper.* This cutting-edge volume shares the freshest discoveries to date made by the Fake Science lab--and completely ignores the sneers from the scientific community over its lack of research. Fake Science 101 is your go-to textbook for when the facts are just too confusing.
*Unless you are a tree.
About the Author
Phil Edwards (Chicago, IL) received his Bachelor of the Arts from the University of Wisconsin-Madison. But don't worry--while his degrees are in English and History, he has plenty of scientific knowledge. In college, he took Physics of the Arts and Zoology 101, for which he attended exactly one lecture and received a solid B.