The Ticking Is the Bomb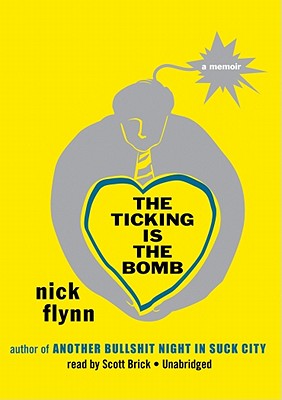 The Ticking Is the Bomb
A Memoir
Blackstone Audiobooks, Compact Disc, 9781441715791
Publication Date: January 2010
* Individual store prices may vary.
Shop Local
Enter your zip code below to find indies closest to you.
About the Author
Nick Flynn has worked as a ship's captain, an electrician, and a case-worker with homeless adults. His most recent book is The Captain Asks for a Show of Hands (2011), is a collection of poems that are linked to his latest memoir, The Ticking is the Bomb (2010).His previous memoir, Another Bullshit Night in Suck City (2004), won the PEN/Martha Albrand Award, was shortlisted for France's Prix Femina, and has been translated into fourteen languages. He is also the author of a play, Alice Invents a Little Game and Alice Always Wins (2008), as well as two other books of poetry, Some Ether (2000), and Blind Huber (2002). Flynn's first memoir, Another Bullshit Night in Suck City, has been adapted into a full feature film called Being Flynn, which is scheduled for release in 2012 from Focus Features. Being Flynn is directed by Paul Weitz and starring Robert De Niro, Paul Dano, and Julianne Moore. Flynn himself is executive producer and artistic collaborator on the film. Flynn is a professor in the creative writing program at the University of Houston.

Scott Brick has performed on film, television and radio. His stage appearances throughout the U.S. include Cyrano, Hamlet, and MacBeth. He's read over 150 audiobooks in four years-for that, AudioFile magazine named Scott ""a rising and shining star"" and awarded him as one of the magazine's Golden Voices. The Audie- and Earphone Award-winning actor has read several Macmillan Audio audioBooks, including Dune: The Butlerian Jihad and Dune: The Machine Crusade by Brian Herbert and Kevin J. Anderson. In addition to his acting work, Scott choreographs fight sequences, and was a combatant in films such as Romeo and Juliet, The Fantasticks and Robin Hood: Men in Tights.