The Wilderness Warrior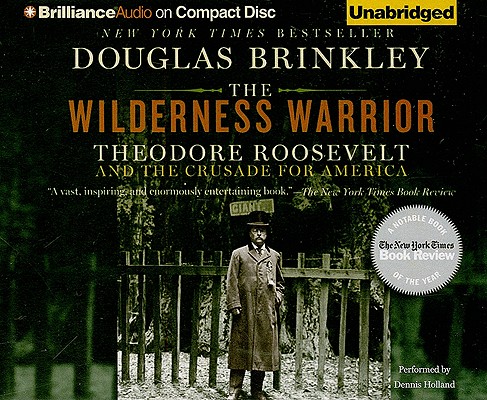 The Wilderness Warrior
Theodore Roosevelt and the Crusade for America
Brilliance Corporation, Compact Disc, 9781441853240
Publication Date: May 2010
* Individual store prices may vary.
Shop Local
Enter your zip code below to find indies closest to you.
Description
Historian Douglas Brinkley draws on never-before-published materials to examine the life and achievements of our "naturalist president." By setting aside more than 230 million acres of wild America for posterity between 1901 and 1909, Theodore Roosevelt made conservation a universal endeavor. This crusade for the American wilderness was perhaps the greatest U.S. presidential initiative between the Civil War and World War I.
Tracing the role that nature played in Roosevelt's storied career, Brinkley brilliantly analyzes the influence that the works of John James Audubon and Charles Darwin had on the young man who would become our twenty-sixth president. He also profiles Roosevelt's incredible circle of naturalist friends, including the Catskills poet John Burroughs, Boone and Crockett Club cofounder George Bird Grinnell, and Sierra Club founder John Muir, among many others. He brings to life hilarious anecdotes of wild-pig hunting in Texas and badger saving in Kansas. Even the story of the teddy bear gets its definitive treatment.
Destined to become a classic, this extraordinary and timeless biography offers a penetrating and colorful look at Roosevelt's naturalist achievements, a legacy now more important than ever. As we face the problems of global warming, overpopulation, and sustainable land management, this imposing leader's stout resolution to protect our environment is an inspiration and a contemporary call to arms for us all.
About the Author
Douglas Brinkley is a professor of history at Rice University and a contributing editor at Vanity Fair. The Chicago Tribune has dubbed him "America's new past master." Six of his books have been selected as New York Times Notable Books of the Year. His most recent book, The Great Deluge, won the Robert F. Kennedy Book Award. He lives in Texas.

Dennis Holland is a voice actor with an extensive background from commercials for Lucky Charms, Sam Adams, Panasonic, American Express, and others, to audiobooks by authors such as Anita Shreve, William Gibson, and Douglas Brinkley. He previously worked as a talent representative for television sports and news personalities.