The Christmas Spirit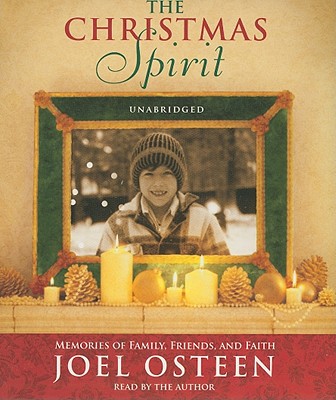 The Christmas Spirit
Memories of Family, Friends, and Faith
Simon & Schuster Audio, Compact Disc, 9781442336360
Publication Date: November 2, 2010
* Individual store prices may vary.
Buy Now
or
Shop Local
Enter your zip code below to purchase from an indie close to you.
Description
"In his first holiday work, Joel Osteen offers uplifting and inspiring true stories of family and friends celebrating Christian Christmas traditions."
In his bestselling books, "It's Your Time" and "Become a Better You," and in his weekly worship services at Lakewood Church in Houston, Joel Osteen offers hope to millions through his belief in the power of faith and the goodness of God. The Christmas season has become a bustling period for many, filled with distractions and anxiety. Osteen will help listeners return to the essence of the holiday, by practicing the principles taught by the Child born that day, and by reminding all of what is truly important in life.
In the tradition of bestselling books that share Christmas memories and stories to celebrate the essence of the season the birth of Christ and the hope and love of His message Osteen's collection of unique stories will illuminate the importance of family and faith, and set readers on the path to a hopeful, peaceful holiday filled with Christian spirit. As always, his words and his practical faith-based advice will be inspiring and insightful, a welcome light in the lives of the faithful at a very special time of year.
Influential in the Christian community around the globe, Joel Osteen is a major source of inspiration and an initiator of change for the millions to whom he preaches. Hailed as America's voice of hope, he reaches more people than almost any other pastor in America between 40,000 and 45,000 attend his weekly worship services in Houston, which also are broadcast to more than ten million viewers around the world. This new book of stories from family and friends about Christmas will be cherished by listeners everywhere.
About the Author
Joel Osteen, oriundo de Texas, es pastor de la Iglesia Lakewood, una de las iglesias mas grandes y de mayor crecimiento en Estados Unidos. Segun la agencia de investigacion de medios Nielsen, Joel es la figura inspiracional mas vista en America. Sus sermones semanales se trasmiten por television en todos los mercados estadounidenses con una millonaria audiencia. Tambien se transmiten en cerca de cien naciones alrededor del mundo. Su primer libro vendio mas de cuatro millones de copias y se mantuvo en la lista de los mas vendidos del New York Times por mas de dos anos. Desde entonces, Joel ha escrito varios titulos, incluyendo Lecturas diarias de lo mejor de ti. Joel aparecio en un sinnumero de programas de television como Larry King Live y fue nombrado entre Las 10 personas mas fascinantes del 2006 por Barbara Walters.