Just Take My Heart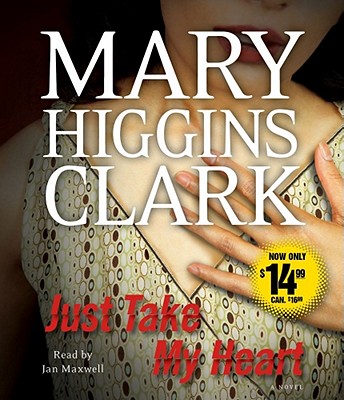 Just Take My Heart
Simon & Schuster Audio, Compact Disc, Abridged, 9781442337664
Publication Date: April 5, 2011
* Individual store prices may vary.
Not Currently Available for Direct Purchase
or
Shop Local
Enter your zip code below to purchase from an indie close to you.
Description
In her new thriller, America's #1 bestselling Queen of Suspense delves into a legal battle over the guilt or innocence of a man accused of murdering his wife. Woven into her plot is an eerie, little-understood but documented medical phenomenon -- the emergence of a donor's traits and memories in the recipient of a heart transplant.
Natalie Raines, one of Broadway's brightest stars, accidentally discovers who killed her former roommate and sets in motion a series of shocking events that puts more than one life in extreme peril.
While Natalie and her roommate, Jamie Evans, were both struggling young actresses, Jamie had been involved with a mysterious married man to whom she referred only by nickname. Natalie comes face to face with him years later and inadvertently addresses him by the nickname Jamie had used. A few days later, Natalie is found in her home in Closter, New Jersey, dying from a gunshot wound.
Immediately the police suspect Natalie's theatrical agent and soon-to-be-ex-husband, Gregg Aldrich. He had long been a "person of interest" and was known to have stalked Natalie to find out if she was seeing another man. But no charges are brought against him until two years later, when Jimmy Easton, a career criminal, suddenly comes forward to claim that Aldrich had tried to hire him to kill his wife. Easton knows details about the Aldrich home that only someone who had been there -- to plan a murder, for instance -- could possibly know.
The case is a plum assignment for Emily Wallace, an attractive thirty-two-year-old assistant prosecutor. As she spends increasingly long hours preparing for the trial, a seemingly well-meaning neighbor offers to take care of her dog in her absence. Unaware of his violent past, she gives him a key to her home...
As Aldrich's trial is making headlines, her boss warns Emily that this high-profile case will reveal personal matters about her, such as the fact that she had a heart transplant. And, during the trial, Emily experiences sentiments that defy all reason and continue after Gregg Aldrich's fate is decided by the jury.
In the meantime, she does not realize that her own life is now at risk.
A compelling novel that probes the mysteries of the human heart and mind, "Just Take My Heart" is Mary Higgins Clark's most spellbinding tale.
About the Author
Mary Higgins Clark's books are worldwide bestsellers. In the US alone, her books have sold more than 100 million copies. Her latest suspense novel, "The Lost Years", was published by Simon & Schuster in April 2012. She is an active member of Literacy Volunteers. She is the author of thirty previous suspense novels, three short story collections, a historical novel, a memoir, and two children's books. She is coauthor with her daughter, Carol Higgins Clark, of five suspense novels. Two of her novels were made into feature films and many of her other works into TV films. Mary Higgins Clark is married to John Conheeney and they live in Saddle River, New Jersey.

Jan Maxwell has appeared on Broadway in "Chitty Chitty Bang Bang, Sixteen Wounded, The Dinner Party, The Sound of Music, A Doll's House, Dancing At Lughnasa, " and "City of Angels." Her off-Broadway credits include performances at Carnegie Hall, Lincoln Center, Manhattan Theatre Club, and The Kennedy Center. On television she has been seen in numerous "Law & Order" episodes as well as PBS's "AIDS- Changing The Rules."