A Covert Affair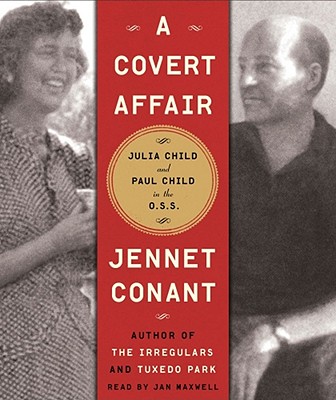 A Covert Affair
Julia Child and Paul Child in the OSS
Simon & Schuster Audio, Compact Disc, 9781442341913
Publication Date: April 5, 2011
* Individual store prices may vary.
Buy at Local Store
Enter your zip code below to purchase from an indie close to you.
or
Not Currently Available for Direct Purchase
Description
New York Times bestselling author Jennet Conant presents this stunning account of Julia Child's early life as a member of the O.S.S. in the Far East during World War II, and the tumultuous years when she and Paul Child were caught up in the McCarthy witch hunt.
When the news was first released in the fall of 2008 that Julia Child had secretly worked for the O.S.S. the announcement made headlines across the country. Julia Child's legions of fans were shocked. Now, there is an enormous amount of new material available to flesh out this fascinating story. Julia Child's O.S.S. files as well as those of her husband and many of her closest friends in the service, have recently been declassified.
Conant has written a wonderful and meticulously researched account about three young women who were recruited by the O.S.S. in Washington and sent to remote outposts in the Far East.
The bright and often eccentric 6 2 Julia springs to life, like a privileged and naive heroine out of an Edith Wharton novel and follows her personal and political coming of age in Ceylon and China, and the life altering romance at thirty-four with the much older and more worldly Paul Child.
The dramatic experiences of Julia's close friend Jane Foster, a charismatic blue-eyed blond O.S.S. agent, casts a provocative light on those nightmarish postwar years. During the height of the McCarthy red hunt, Foster was accused of being a spy. Suspicion quickly fell on her closest friends. Julia and Paul Child, who stayed loyal to Jane Foster, left the diplomatic corps and found a new line of work, and the rest, as they say, is history.
About the Author
Jennet Conant is the author of the New York Times bestsellers The Irregulars: Roald Dahl and the British Spy Ring in Wartime Washington and Tuxedo Park: A Wall Street Tycoon and the Secret Palace of Science That Changed the Course of World War II. A former journalist, she has written for Vanity Fair, Esquire, GQ, Newsweek, and The New York Times. She lives in New York City and Sag Harbor, New York.
Praise For A Covert Affair…
"Conant has written a book full of fascinating material about wartime and postwar America and how they intersected....Conant doesn't disappoint in her picture of the whirlwind life of the OSS, created very much in the image of its founder, the maverick William J. Donovan. Her glimpses of how he overcame bureaucratic rivalries and turf wars are as exciting as her picture of life in the field, complete with dengue fever, cobras and scorpions." —Los Angeles Times



"A Covert Affair is a skillfully told tale of espionage, combining just enough background information with the right amount of boisterous anecdote to make the reader feel simultaneously amused and informed." —Salon.com



"The value of Conant's anecdotal approach is... in its depiction of ordinary relationships in extraordinary circumstances--of the way friendships, feuds and romances develop in strange and secretive settings." —The New York Times Book Review



"Thoroughly researched, fluid and compelling" —Kirkus



"A well-researched, entertaining, and fast-paced read" —Library Journal



"It is a wallop of a story, people engaging in the sorts of international dangers that is the stuff of the movies… all jungles and cities and intrigue and risk, with an exquisite attention to detail that illuminates the OSS and its players." —Portland Oregonian



"A brilliantly researched and written account… a well-researched and well-written account of this period in American history….Conant, a terrific writer, conducted voluminous research and crafted a fascinating story that reads as though she was actually there." —The Seattle Times