Fall from Grace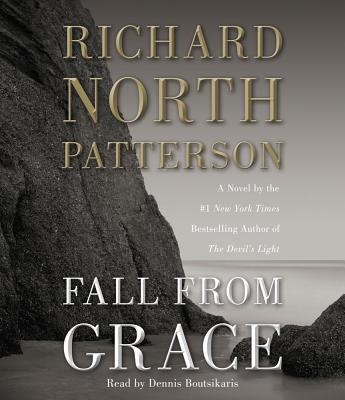 Fall from Grace
Simon & Schuster Audio, Compact Disc, 9781442344372
Publication Date: March 20, 2012
* Individual store prices may vary.
Buy Now
or
Shop Local
Enter your zip code below to purchase from an indie close to you.
Description
The mysterious, violent death of a prominent New England patriarch exposes a nest of dark family secrets in bestselling author Richard North Patterson's twentieth compelling novel.

Adam Blaine arrives on the island of Martha's Vineyard to attend the funeral of his estranged father, Ben Blaine, a famous and charismatic writer who has served as patriarch of his clan for many years. A man fond of sailboats, good wine, and women other than his wife, Ben Blaine has left behind a string of secrets in addition to an emotionally distraught widow and his strangely aloof mistress, Carla Pacelli, a beautiful television actress who once had a drug problem.

As soon as Adam arrives, he discovers that Ben has disinherited his mother, uncle, and brother in favor of his lover, and begins to wonder if his father's death—caused by an inexplicable fall from a cliff—might be murder. Using his training as a CIA operative, Adam skillfully seeks to obscure the evidence suggesting that a family member may have killed his father, while at the same time fighting to undo the will, which favors the enigmatic Carla. As he walks this tightrope, Adam risks his freedom and perhaps his life, even as he unearths increasingly disturbing family secrets never meant to be discovered, and which cause him to question his understanding of his own life and everyone around him—his beloved mother, uncle, and brother and, not least, Carla.

Filled with tight psychological intrigue that will keep readers guessing until the very last page, Fall from Grace confirms that "Richard North Patterson is one of the best in the business" (Time).
About the Author
Richard North Patterson is the author of "In The Name Of Honor", "Eclipse", "The Spire", "Exile", "The Race", "Degree Of Guilt", "Eyes Of A Child", "Silent Witness", and many other bestselling and critically acclaimed novels. Formerly a trial lawyer, he was the SEC liaison to the Watergate special prosecutor, the assistant attorney general for the state of Ohio, and has served on the boards of several Washington advocacy groups. In 1993, he retired from his law practice to devote himself to writing. His first novel, "The Lasko Tangent", was the winner of the Edgar Allan Poe Award for Best First Novel in 1980. He is a graduate of Ohio Wesleyan University and Case Western Reserve University School of Law, and is a recipient of their President's Award for Distinguished Alumni. He lives in Martha's Vineyard, San Francisco, and Cabo San Lucas with his wife, Dr. Nancy Clair. "Richard North Patterson is a terrific novelist."-"The Washington Post"

Dennis Boutsikaris received an Obie Award for his performance in Sight Unseen and was Mozart in Amadeus on Broadway. His films include *batteries not included, The Dream Team, and Boys On The Side. His TV work includes And Then There Was One, The Last Don and Chasing The Dragon; he was most recently the D.A. of NY in Sidney Lumet's 100 Centre Street.