Flash Boys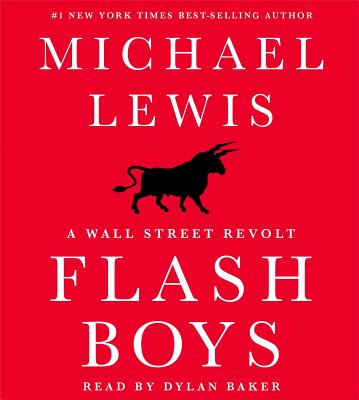 Flash Boys
A Wall Street Revolt
Simon & Schuster Audio, Compact Disc, 9781442370272, 8pp.
Publication Date: March 31, 2014
* Individual store prices may vary.
Buy Now
or
Shop Local
Enter your zip code below to purchase from an indie close to you.
Description
From the #1 bestselling author of "The Blind Side "and "Moneyball"
Four years after his #1 bestseller "The Big Short," Michael Lewis returns to Wall Street to report on a high-tech predator stalking the equity markets.
"Flash Boys" is about a small group of Wall Street guys who figure out that the US stock market has been rigged for the benefit of insiders and that, post-financial crisis, the markets have become not more free but "less," and more controlled by the big Wall Street banks. Working at different firms, they come to this realization separately; but after they discover each other, the flash boys band together and set out to reform the financial markets. This they do by creating an exchange in which high-frequency trading source of the most intractable problems will have no advantage whatsoever.
The characters in "Flash Boys" are fabulous, each completely different from what you think of when you think Wall Street guy. Several have walked away from jobs in the financial sector that paid them millions of dollars a year. From their new vantage point they investigate the big banks, the world's stock exchanges, and high-frequency trading firms as they have never been investigated, and expose the many strange new ways that Wall Street generates profits.
The light that Lewis shines into the darkest corners of the financial world may not be good for your blood pressure, because if you have any contact with the market, even a retirement account, this story is happening to you. But in the end, "Flash Boys "is an uplifting story. Here are people who have somehow preserved a moral sense in an environment where you don t get paid for that; they have perceived an institutionalized injustice and are willing to go to war to fix it.
About the Author
Michael Lewis, the best-selling author of Liar s Poker, The Money Culture, The New New Thing, Moneyball, The Blind Side, Panic, Home Game, The Big Short, and Boomerang, among other works, lives in Berkeley, California, with his wife and three children.
Dylan Baker s first audiobook recording was for "The Grapes of Wrath", which subsequently won both Audie and Earphones Awards. He has since narrated several audio books, including Tom Wolfe's "I Am Charlotte Simmons, "Walter Isaacson s biography of Steve Jobs, and Michael Lewis s "Flash Boys". In 2002, he won an Audie Award for Abridged Fiction for Jonathan Franzen s "The Corrections".
He has appeared in numerous films including "Spider-Man 2, Spider-Man 3, Kinsey, Head of State, Thirteen Days", and "Happiness". Baker was nominated for a Tony Award for his Broadway performance in "La Bete", and he won an Obie Award for his performance in the 1986 play "Not About Heroes". His television credits include guest appearances on "The Practice, Law & Order", and "The West Wing". Baker earned his B.F.A. from Southern Methodist University and a Masters in Fine Arts from Yale's School of Drama.