This Dark Endeavor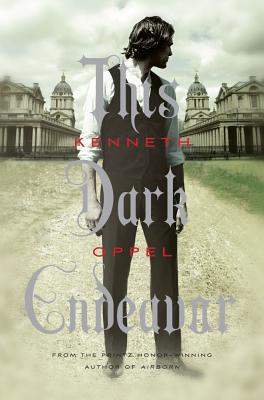 This Dark Endeavor
The Apprenticeship of Victor Frankenstein
Simon & Schuster Children's Publishing, Hardcover, 9781442403154, 298pp.
Publication Date: August 23, 2011
* Individual store prices may vary.
Buy at Local Store
Enter your zip code below to purchase from an indie close to you.
or
Not Currently Available for Direct Purchase
Description
Victor and Konrad are the twin brothers Frankenstein. They are nearly inseparable. Growing up, their lives are filled with imaginary adventures...until the day their adventures turn all too real. They stumble upon The Dark Library, and secret books of alchemy and ancient remedies are discovered. Father forbids that they ever enter the room again, but this only peaks Victor's curiosity more. When Konrad falls gravely ill, Victor is not be satisfied with the various doctors his parents have called in to help. He is drawn back to The Dark Library where he uncovers an ancient formula for the Elixir of Life. Elizabeth, Henry, and Victor immediately set out to find assistance in a man who was once known for his alchemical works to help create the formula. Determination and the unthinkable outcome of losing his brother spur Victor on in the quest for the three ingredients that will save Konrads life. After scaling the highest trees in the Strumwald, diving into the deepest lake caves, and sacrificing one's own body part, the three fearless friends risk their lives to save another.
Praise For This Dark Endeavor…
"Oppel has reinvented the gothic thriller for modern readers. The narrative crackles with tension, emotions run high, and the atmosphere is perfectly dark and brooding. The Shelleys would be proud. I definitely recommend you check out the book when it's published August 23. I anticipate This Dark Endeavor will get a lot of attention, and rightly so."--Rick Riordan



"Oppel's novel is a gripping tale of undying devotion, mixing hope with foreboding."—The Horn Book in a STARRED review



"Oppel's tale is melodramatic, exciting, disquieting…a delicious mix."—Publisher's Weekly in a STARRED review



"Brash, jealous, and arrogant, Victor is sweet relief from today's introspective YA protagonists, and one can easily visualize how this teen becomes the mad genius of Shelley's Frankenstein."--Booklist



"Oppel grapples with the human duality of animal and soul in ways that recall (but don't repeat) Shelley's similar thematic explorations as he revitalizes the classic horror tale for a new generation."--Bulletin of the Center for Children's Books, STARRED review



"This Dark Endeavor may renew interest in Frankenstein, but it also stands alone as an original and welcome addition to the world of young-adult fiction."—Kelley Armstrong, author of the Darkest Power series



"A dark and dramatic back story for Shelley's tormented creator."--Kirkus Reviews



"Sharp readers will find allusions to Mary Shelley, her literary circle, and classic horror films; for those simply wanting a good story with plenty of action, this book will not disappoint."--School Library Journal



"The action and suspense begin on page one and let up very little in this excellent work of gothic science fiction."--VOYA



"Adventures do not come more thrilling, gorgeously written or absorbing than this."
—The London Times