Heroes of Olympus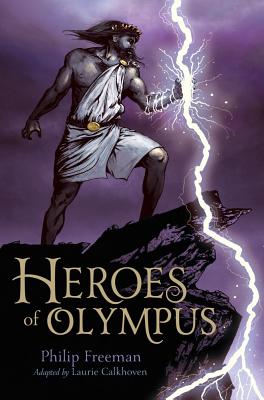 Heroes of Olympus
Simon & Schuster Books for Young Readers, Hardcover, 9781442417298, 342pp.
Publication Date: May 1, 2012
* Individual store prices may vary.
Shop Local
Enter your zip code below to find indies closest to you.
Description
Fast-paced and action-packed retellings of the most important Greek and Roman myths.
Ancient myths continue to have modern relevance—for thousands of years they have been the basis for plays, operas, paintings, and movies. And in these retellings from acclaimed writer and scholar Philip Freeman, classic tales from Greek and Roman mythology find new life and inspire aspiring writers, artists, and musicians. Adapted from the lengthier Oh My Gods and specially tailored to a younger audience, these irresistible stories of philandering gods, flawed heroes, and tragic lovers portray the fundamental aspects of humanity and are filled with entertaining drama and valuable insights.
About the Author
The author of more than a dozen books on the ancient world, Philip Freeman is a professor and chair of the Classics Department at Luther College. He earned his PhD from Harvard University. He lives in Decorah, Iowa.

Elissa Brent Weissman is the author of "The Short Seller", "Nerd Camp", " "and "Standing for Socks "as well as "The Trouble with Mark Hopper". She lives in Baltimore, Maryland. Visit her at EBWeissman.com.

Laurie Calkhoven is the author of many books, including "George Washington: An American Life" and "Harriet Tubman: Leading the Way to Freedom". She lives in New York City. Visit her at LaurieCalkhoven.com.