The Story of Us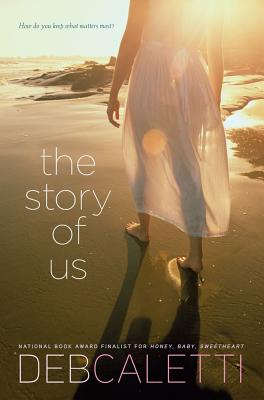 The Story of Us
Simon Pulse, Hardcover, 9781442423466, 400pp.
Publication Date: April 24, 2012
* Individual store prices may vary.
Shop Local
Enter your zip code below to find indies closest to you.
Description
A fresh and bittersweet story of love and family from National Book Award finalist Deb Caletti.
Cricket's on a self-imposed break from her longtime boyfriend—but she's picked a bad week to sort out her love life. For one thing, her mother's romance is taking center stage: After jilting two previous fiancés, her mom is finally marrying Dan Jax, whom Cricket loves. But as wedding attendees arrive for a week of festivities at a guesthouse whose hippie owners have a sweet, sexy son—Ash—complications arise:
Cricket's future stepsisters make it clear they're not happy about the marriage. An old friend decides this is the week to declare his love for Cricket. Grandpa chooses to reveal a big secret at a family gathering. Dan's ex-wife shows up. And even the dogs—Cricket's old, ill Jupiter and Dan's young, lively Cruiser—seem to be declaring war.
While Cricket fears that Dan is in danger of becoming ditched husband-to-be number three, she's also alarmed by her own desires. Because even though her boyfriend looms large in her mind, Ash is right in front of her.... 
About the Author
Deb Caletti s first novel for teens was The Queen of Everything, was nominated for YALSA's Best Books for Young Adults, and was chosen for PSLA's Top Forty of 2003 and the International Reading Association's Young Adult Choices for 2004. Honey, Baby, Sweetheart, a National Book Award finalist, was Deb's second book for teens. Deb lives with her family part-time on acreage in Issaquah, a Seattle suburb, and part-time in the city on a houseboat. She steals her best lines from her mother, her kids, and the dog, who doesn't seem to mind. You can visit her at www.debcaletti.com.
Praise For The Story of Us…
* "Caletti's latest Pacific Northwest romance is a stunner, with depth and ambiguity that respects and
challenges the reader.... One of Caletti's best, this is a title to reread and savor." --Booklist, starred review

"Thoughtful and poetic... quite moving... a rewarding story of a girl's struggle to live and love in a world of constant change." --Publishers Weekly

"Caletti tosses readers into a story that is fast paced from the get-go. Cricket is very appealing. Her concerns about life's changes feel real; her relationships with her mom and brother are loving and honest... A thoughtful and enjoyable book..." --School Library Journal


"There is a crowd of characters with a nice variety of simple to complex backstories, all of whom... to have a valid part to play." --VOYA

"Smart, likable Cricket is supported by a surfeit of colorful characters and plenty of action.... Caletti [has] exceptional insight into and compassion for her characters..." --Kirkus Reviews

"Caletti's talent for creating interesting, complex characters and relationships that remind readers of their own families shines through in this novel.... a beautiful, emotion-driven story. This is yet another excellent, family-oriented novel."  --thecompulsivereader.com

"One thing I could not stress enough is how real this book felt through the way characters acted and interacted with each other. This could be any family. The specific memories made it theirs, but the human interaction that came out through the novel could belong to anyone.... I thoroughly enjoyed this novel, and would recommend it for anyone who enjoys thinking about how we communicate and interact with others, and what it means to grow up." --darkfaerietales.com

"The story is driven by meticulously delineated and authentically imperfect characters—even Jupiter, Cricket's elderly beagle, has a personality all her own—and sharp, clever Gilmore Girls-esque dialogue. Cricket's first-person narration is mature and...self-aware; her observations about the nature of family, friendship, and the canine/human connection ring true." --The Horn Book

"Caletti's writing possesses both vigor and perceptivity, with characters brought to vivid life in a quick turn of phrase. Readers uncertain about their own upcoming big moves into adulthood may relate to Cricket's anxiety and applaud her negotiation of a difficult transition." --Bulletin of the Center for Children's Books