Brother from a Box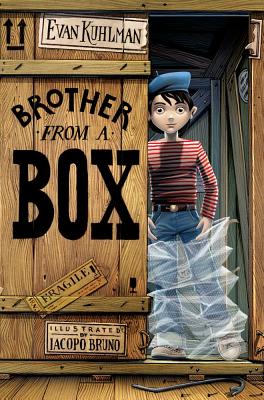 Brother from a Box
Atheneum Books for Young Readers, Hardcover, 9781442426580, 325pp.
Publication Date: May 1, 2012
* Individual store prices may vary.
Buy at Local Store
Enter your zip code below to purchase from an indie close to you.
or
Buy Here
Description
One new brother assembly required. From the author of The Last Invisible Boy."
Matt Rambeau is officially a big brother to a robot Matt's super-computer-genius dad is always getting cool tech stuff in the mail, but the latest box Matt opens contains the most impressive thing he's ever seen: a bionically modified lifeform that looks human and calls Matt brother (in French)
Norman turns out to be a bit of an attention hog and a showoff, but Matt's still psyched to have a robotic sibling even if he flirts with (ugh) girls. Then strange things start to happen. First a computer worm causes Normanto goberserk, and then odd men start showing up in unusual places. Matt soon realizes that someone is trying to steal the robot correction his brother
In this zany, action-packed story with spies, skateboards, and plenty of artificial intelligence, acclaimed author Evan Kuhlman gets to the heart (and motherboard) of one of the most special relationships known to man (or machine): brotherhood.
About the Author
Evan Kuhlman is the author of "Brother from a Box", the critically acclaimed"The" "Last Invisible Boy", "Great Ball of Light", and the highly lauded novel for adults "Wolf Boy". He lives in Ohio. Visit him at AuthorEvanKuhlman.Wordpress.com.

Iacopo Bruno once had a very special friend who had everything he could possibly want. You see, ever sincethe two of themwere kids, Bruno's friend owned a magical pencil with two perfectly sharp ends. Whenever he wanted something, he drew it and it came to life! Once, he drew a spaceship andthe bothboarded it and went on a nice little tour around the galaxy. Another time, he drew a sparkling red plane that was very similar to the Red Baron's, only a little smaller. He pilotedthe two of theminside a giant volcano that had erupted only an hour earlier. WheneverBruno's friend was tired, he drew a big bed.They dreamed through the night until the morning light shone through the drawn shades. This great friend ofhis eventually moved to China . . . but he left his magic pencil with Bruno!
Praise For Brother from a Box…
"Equally entertaining and thought-provoking, this one will appeal to science-fiction and suspense fans as well as those readers who tend toward more character and relationship-focused selections."
--Kirkus Reviews