Red Hat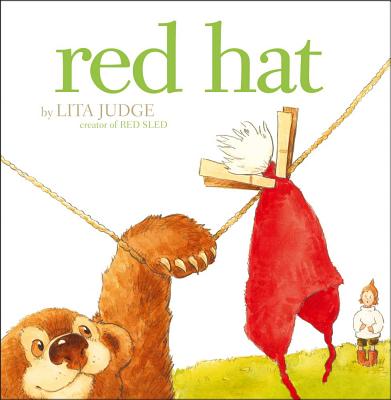 Red Hat
Atheneum Books for Young Readers, Hardcover, 9781442442320, 40pp.
Publication Date: March 5, 2013
* Individual store prices may vary.
Buy at Local Store
Enter your zip code below to purchase from an indie close to you.
or
Buy Here
Description
A series of exuberant read-aloud sound effects perfectly capture the whimsy and joy of a springtime frolic in this companion to Red Sled.
In this almost wordless springtime picture book, an adorable crew of baby animals borrows a familiar-looking red hat (last seen on the head of Red Sled's unsuspecting protagonist) and embarks on a joy-filled escapade--until all that is left is a long piece of red string Their playful romp is gorgeously depicted in bold watercolor and complemented by humorous expressions and pitch-perfect sound effects. With a timeless tone and classic characters, Red Hat promises to be an instant favorite.
Praise For Red Hat…
* "One red hat plus a troop of enthusiastic animals equals trouble! Young fans will love reading and rereading this nearly wordless continuation of the adventure of the hat from Judge's marvelous winter tale, Red Sled…. The watercolor-and-pencil illustrations are deceptively simple and strike the perfect chord of energy and emotion that is the definition of a curious and accidentally naughty preschooler. Crossing fingers for more seasonal "red" tales."



"In this warm-weather companion to 2011's Red Sled, a boy's pointy hat is as irresistible to the local wildlife as his sled was in the previous book. As in that story, the only text is the occasional sound effect—the "Fffwwup" of a hat being grabbed off the clothesline, or the "shwoop" of a rabbit and mouse holding onto the rapidly unraveling hat for dear life as a bear runs off with it…the laughs are on target, as is the "no harm done" resolution."



"The red hat worn by the child in Red Sled (2011) takes a more prominent role in the sequel. Like its predecessor, this picture book is almost wordless but seldom silent…. While the pencil-and-watercolor illustrations show a fine color sense, particularly in the idyllic settings, young children will be drawn to the animals' headlong action, expressive body language, and amusing facial expressions. An engaging picture-book adventure."



"In this almost wordless companion to Red Sled (S & S, 2011), forest animals notice a knit cap hung on a clothesline to dry as a child goes inside his home…. The attractive pencil and watercolor artwork is framed, making good use of a plain background of color, such as lush greens or white, which allows the details to stand out. The author uses various visual perspectives to show the animals' playful antics…. Enjoyable enough for repeated readings."