The Chaos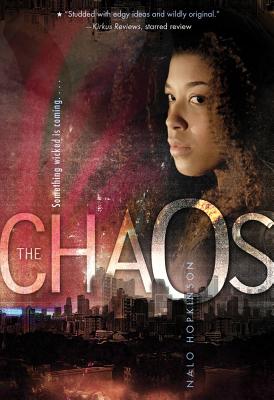 The Chaos
Margaret K. McElderry Books, Paperback, 9781442459267, 241pp.
Publication Date: March 5, 2013
* Individual store prices may vary.
Buy Now
or
Shop Local
Enter your zip code below to purchase from an indie close to you.
Description
Navigate between myth and chaos in this journey filled with peril, self-discovery, and terrifying moments ("Publishers Weekly," starred review).
Sixteen-year-old Scotch struggles to fit in at home she's the perfect daughter, at school she's provocatively sassy, and thanks to her mixed heritage, she doesn t feel she belongs with the Caribbeans, whites, or blacks. And even more troubling, lately her skin is becoming covered in a sticky black substance that can t be removed. While trying to cope with this creepiness, she goes out with her brother and he disappears. A mysterious bubble of light just swallows him up, and Scotch has no idea how to find him. Soon, the Chaos that has claimed her brother affects the city at large, until it seems like everyone is turning into crazy creatures. Scotch needs to get to the bottom of this supernatural situation ASAP before the Chaos consumes everything she's ever known and she knows that the black shadowy entity that's begun trailing her every move is probably not going to help.
A blend of fantasy and Caribbean folklore, at its heart this tale is about identity and self acceptance because only by acknowledging her imperfections can Scotch hope to save her brother.
About the Author
Nalo Hopkinson is the author of "The New Moon s Arms", "The Salt Roads", "Midnight Robber", and "Brown Girl in the Ring", among many others. She has won numerous awards, including the John W. Campbell Award, the World Fantasy Award, and Canada s Sunburst Award for fantasy literature. Her award-winning short fiction collection "Skin Folk" was selected for the 2002 "New York Times" Summer Reading List and was one of the "New York Times" Best Books of the Year. Currently, she is a professor of creative writing at the University of California Riverside.
Praise For The Chaos…
* "Noted for her fantasy and science fiction for adults, Hopkinson jumps triumphantly to teen literature. . . . Rich in voice, humor and dazzling imagery, studded with edgy ideas and wildly original, this multicultural mashup—like its heroine—defies category."--Kirkus Reviews, *STARRED



* "Mixing mythology and massively ­surreal events, adult fantasy author Hop­kinson (The Salt Roads) explores questions of identity and image in her YA debut, set against the backdrop of a world gone mad. . . . Hopkinson's use of language and imagery is almost magical, and her characters add much-appreciated diversity to the genre."--Publishers Weekly, *STAR



* "Hopkinson, who grew up in the Caribbean, mixes Jamaican legends, fairy tales, and sheer imagination to create this wildly inventive story that also skillfully addresses essential teen subjects: change, race, identity, love, and understanding cultural differences. Labels are impossible here, so just hand this refreshingly original treat to teens eager for something completely different."--Booklist, *STAR



"[Scotch] proves to be a compelling anchor for a tale in which, for a while at least, it seems that literally anything can happen. Hopkinson's joy of invention is palpable, and despite its darker edges, it's that joy in the possibilities of the imagination that I hope comes through to younger readers. Come to think of it, we could all use a dose of it."--Locus