Noni the Pony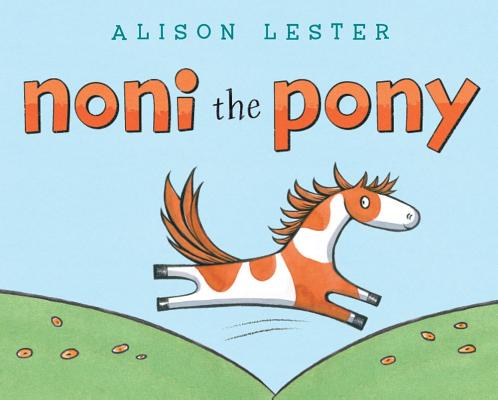 Noni the Pony
Beach Lane Books, Hardcover, 9781442459595, 32pp.
Publication Date: October 30, 2012
* Individual store prices may vary.
Buy at Local Store
Enter your zip code below to purchase from an indie close to you.
or
Buy Here
Description
Meet Noni, a pony who's as zippy and fun as she is thoughtful and kind.
Introducing Noni, the friendliest, funniest, and "friskiest" pony you ll ever meet When she's not racing and chasing with her best pals Dave Dog and Coco the Cat, she's busy making sure they feel cozy and loved. Because Noni isn t just heaps of fun she's a great friend, too.
With its jaunty rhyme and bright, bold illustrations, this delightful picture book is sure to capture the imaginations and hearts of readers of all ages.
Praise For Noni the Pony…
"Noni, friendly and funny, is the perfect pony for preschoolers. Like Noni herself, the light rhyme, bustling with rhythm and easy to read, is friendly and funny…. Each couplet is accompanied by Lester's droll illustrations…. The gentle ending, with pony and friends cuddled up for bed, slows the trotting long enough— just the way a book for toddlers should end. Night-night, Noni."



"Rhyming books that are well done are music to the ear, and this one is just that…. Lester's illustrations are charmingly done in black outline with pencil, watercolor, and collage interiors. Simple and bold, with uncluttered backgrounds, they will attract the youngest readers, and the soothing ending will satisfy them."


* "It's the most adorable title to come down the pike in a long time—and it delivers on every page…. Fans of Lester (Running with the Horses) know that she's an expert horse portraitist, but she opts for a radically streamlined approach in this outing, rendering Noni and her friends as…simple, toylike shapes with just enough details to reveal a cheerful, openhearted character: eager round eyes, a sweet little smile, and—in Noni's case—a wavy mane and tail. There's not a whisper of dramatic tension or narrative arc, but no matter: it's a safe bet that readers will follow her anywhere."



"The graphic art, with its soft, round shapes and soothing, textured background colors, will appeal to small children, as will the cheery couplets. Not only does this one have potential for storytimes about friendship but it's also suited for bedtime reading (it ends with Noni, Dave, and Coco all snuggled as one) and for sharing with the legions of kids who love, love, love horses."



"In [Alison Lester's]…"Noni the Pony," an unabashedly sweet and simple tale about a happy pony, her affection and easy familiarity with these four-legged favorites shine through… the target audience will appreciate its simple cadences, which allow them to predict the rhyming words and to participate in the pleasures of the story.… Lester's cheerful illustrations nicely match the text, yet offer welcome surprises. There's something amusing about Noni's oversimplified movements, from her squirrel-like leap on the cover to her curled-up-like-a-kitty finale."