Yuck's Pet Worm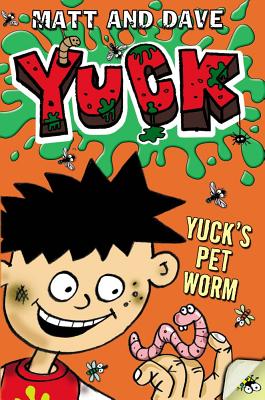 Yuck's Pet Worm
And Yuck's Rotten Joke
Simon & Schuster/Paula Wiseman Books, Hardcover, 9781442481503, 104pp.
Publication Date: April 2, 2013
* Individual store prices may vary.
Buy at Local Store
Enter your zip code below to purchase from an indie close to you.
or
Not Currently Available for Direct Purchase
Description
Yuck is the master of all things disgusting in these two tales—especially when he adds a squirmy pet and some gross-out tricks to the mix.
In "Yuck's Pet Worm," Yuck has a new pet—a worm called Fang. "Worms are disgusting!" his sister Polly says. "You can't have a worm in the house!" Mom says. But Yuck thinks worms are awesome! But when he trains Fang to do disgusting tricks, things start to wiggle out of control….
In "Yuck's Rotten Joke," Polly's report card is full of stars for good behavior, while Yuck doesn't have any. He needs to score some by the end of the week, or he'll be in BIG TROUBLE. Using his collection of practical jokes—from itching powder to Dogididapoo—can Yuck make sure he has the last laugh?
About the Author
Matthew Morgan and David Sinden co-developed and wrote the Yuck stories. They're lifelong friends who met at school sports day in elementary school and grew up in Kent, England. Matt and Dave both worked in children's publishing before turning to fulltime writing, and they also write the An Awfully Beastly Business series. Nigel Baines is an experienced book designer who has worked for various trade publishing houses. He is a keen walker and would like to spend half the year living on top of the Andes. His other great loves are Grantham Town Football Club and any kind of travel.

Matthew Morgan, David Sinden, and Guy Macdonald are best friends from childhood. Matthew and David are the authors of the hugely successful UK series YUCK. All three live in Kent, England.

David Sinden studied Fine Art at Central Saint Martins College of Art and Design before qualifying as an art teacher at the Institute of Education, London University. He works professionally as an art tutor, designer, children s book writer, illustrator, and TV development producer. He is the co-creator of the creative art journals "Anti-Journal" and "Post This".