The Terrible and Wonderful Reasons Why I Run Long Distances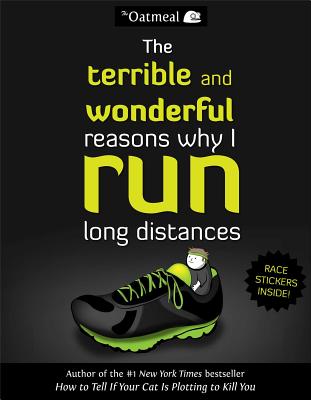 The Terrible and Wonderful Reasons Why I Run Long Distances
Andrews McMeel Publishing, Paperback, 9781449459956, 147pp.
Publication Date: September 30, 2014
* Individual store prices may vary.
Buy at Local Store
Enter your zip code below to purchase from an indie close to you.
or
Buy Here
Description
Praise for #1 New York Times best-selling author Matthew Inman, AKA The Oatmeal:
"All runners wonder, at some point or another, why we do what we do. Mr. Inman's explanation is the best I've ever seen. And the funniest. Because he is clinically insane."
-Mark Remy, editor at large, "Runner's World," author of "The Runner's Rule Book"
"He runs. He sweats. He heaves. He hates it. He loves it. He runs so hard his toenails fall off. He asks himself, why? Why do I do this? Here, gorgeously, bravely, hilariously, is Matt's deeply honest answer."
-Robert Krulwich, NPR
"Finally A voice that sings with the Blerches of angels "
-Christopher McDougall, author of "Born to Run"
This is not just a book about running. It's a book about cupcakes. It's a book about suffering.
It's a book about gluttony, vanity, bliss, electrical storms, ranch dressing, and Godzilla. It's a book about all the terrible and wonderful reasons we wake up each day and propel our bodies through rain, shine, heaven, and hell.
From #1 "New York Times" best-selling author, Matthew Inman, AKA The Oatmeal, comes this hilarious, beautiful, poignant collection of comics and stories about running, eating, and one cartoonist's reasons for jogging across mountains until his toenails fall off.
Containing over 70 pages of never-before-seen material, including "A Lazy Cartoonist's Guide to Becoming a Runner" and "The Blerch's Guide to Dieting," this book also comes with Blerch race stickers.
About the Author
The Oatmeal's real name is Matthew Inman, and he lives in Seattle, Washington. He subsists on a steady diet of crickets and whiskey. He enjoys long walks on the beach, gravity, and breathing heavily through his mouth. His dislikes include scurvy, typhoons, and tapeworm medication. In reality, Matthew is a 27-year old web designer, developer, and online marketer. In 2007 he built a full-featured online dating website, from concept to launch, in only 66.5 hours. The end result was Mingle2, and within six months the website received several million visitors and was eventually acquired by a competitor. Mingle2 now receives 40 million page views a month. He now focuses his energies on The Oatmeal, an entertainment site full of comics, quizzes, and other delights.