Paper Angels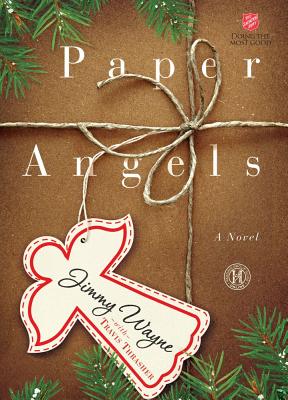 Paper Angels
Howard Books, Hardcover, 9781451606195, 291pp.
Publication Date: November 1, 2011
* Individual store prices may vary.
Buy at Local Store
Enter your zip code below to purchase from an indie close to you.
or
Not Currently Available for Direct Purchase
Description
Kevin Morrell is a forty-three-year-old husband and father who runs a successful design and marketing firm that's crashed into the suffering economy. Attempting to navigate the busyness of the mall at Christmas, Kevin is humbled when he stumbles across the Salvation Army's Angel Tree Project. His wife insists that he take a paper ornament.
The name on the ornament is Thomas Brandt, a fifteen-year-old still reeling from the implosion of his family—from years of verbal abuse from an alcoholic father to a mother who finally left him behind, only to find herself and her children penniless and struggling. The only thing has allowed Lynn to survive is her faith. Thomas shares that faith, but he also wonders why God has seemingly abandoned them.
This is the story about a man and a boy one December. A man whose life is changed by a simple expression of kindness, and a boy who takes that expression of kindness and shows the true meaning of Christmas.
About the Author
Jimmy Wayneis a former foster kid turned country music singer/songwriter whose songs and story highlight his mission to bring awareness to kids who age out of the foster system and become homeless. In 2010, Jimmy walked halfway across America to raise awareness for these kids. He won the millionaire award for having 100,000,000 radio spins in America of his songDo You Believe Me Now, is the author of the novelPaper Angels, and is the national spokesperson for CASA.

Critically acclaimed author Travis Thrasher has written over thirty books that have crossed the spectrum, from love stories and supernatural thrillers. His inspirational stories have included collaborations with filmmakers, musicians, and pastors. He s also helped write memoirs and self-help books. He lives with his wife and three daughters in a suburb of Chicago.
Praise For Paper Angels…
"Paper Angels captures the true essence of The Salvation Army Angel Tree program and the true spirit of Christmas which is sharing and caring. I am pleased to recommend it to everyone as an inspirational story, for parents to not only share with their children but also to create a Christmas tradition for years to come."

-Lt. Col. Charles White, Salvation Army Officer and Founder of the Angel Tree program


"Jimmy Wayne has taken the pathos, poignancy, heart, and storytelling abilities that infuse his music and translated them into a novel that will inspire all those who read it to take the first step toward making a difference."

-Jennifer Perry, Executive Director, Children's Action Network


"Jimmy Wayne has used his God-given talent for songwriting to craft Paper Angels, an inspired and beautifully written timeless story that will bless you and encourage you to make a difference. Like other classic tales of Christmas, this one should be read year after year as a reminder why we celebrate and give."

-Ron Hall, New York Times bestselling author of Same Kind of Different as Me


"Two intertwined stories about family life and hard times add the hope of the Christmas holiday and make readers believe in the goodness and compassion of loving hearts. This book brings a holy moment to the reader and helps define the true meaning of 'gift.' This will make a great stocking stuffer." (four stars)



"Paper Angels reveals the inner beauty of the human soul and reminds us all that it's what we give away not what we receive that is of value and creates impact…The individual characters within this novel are poignantly portrayed in such a way that you feel you are living each experience as they unfold…Our lives are busy with to-do lists, dreams to follow, hurdles to overcome, and expectations to live up to. This book tenderly encourages us to slow down and treasure the special moments and people around us regardless of our circumstances. It allows us to see life through the eyes of those who at one time were us or at any point could be…this is an amazing read that will bring tears to your eyes."

-Amanda Grieves, Human Resources & Social Media Manager, The Salvation Army-Nashville Area Command


"Paper Angels is a heartfelt Christmas tale about finding kindness amid consumerism, highlighting the historic Salvation Army Angel Tree Program. But it's so much more than that too: it's a story of brokenness and redemption, of forgiveness and second chances, of empathy and integrity and repaying evil with good. Travis Thrasher and Jimmy Wayne have crafted three-dimensional and true-to-life characters and woven their storylines together seamlessly. The result is an inspirational masterpiece set to challenge minds and move hearts."

-Josh Olds