All Standing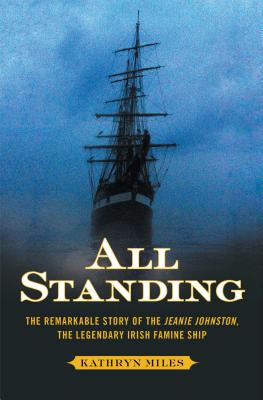 All Standing
The Remarkable Story of the Jeanie Johnston, the Legendary Irish Famine Ship
Simon & Schuster, Paperback, 9781451610154, 238pp.
Publication Date: January 14, 2014
* Individual store prices may vary.
Buy Now
or
Shop Local
Enter your zip code below to purchase from an indie close to you.
Description
The enthralling, true tale of a celebrated "coffin ship" that ran between Ireland and America in the 1840s: "By turns harrowing and heartwarming…All Standing salvages the treasure of a history lost at sea" (J.C. Hallman, author of The Devil Is a Gentleman).
Desperate for a new beginning, countless Irish unsettled by famine in the 1840s braved the treacherous voyage to Canada and the United States in crowded ships that claimed more than 100,000 lives. But unlike every other "coffin ship," the Jeanie Johnston never lost a passenger. In All Standing, Kathryn Miles resurrects this extraordinary ship, its heroic crew, and the epic forces against which they struggled in a time of momentous and devastating change.

In eleven voyages, the Jeanie Johnston's crew—Munn, Donovan, Attridge, and Blennerhassett—delivered some 2,500 individuals to the New World. Why did these four men succeed when so many others failed? What prompted them to act when so many preferred to do nothing—or worse? Using newspaper accounts, rare documents, and her own experience sailing as an apprentice aboard the recently re-created Jeanie Johnston, Miles tells a tale of courage, ingenuity, and bravado, of a very human struggle to endure in the face of unimaginable hardship. But just as compelling as the myriad personal stories that Miles brings to life are the bigger, historic narratives: the colonial exploitation of people and natural resources, a wholly preventable epidemic that exterminated countless lives, and the dangers of an unregulated economy. Combined, they build a complex and fascinating account that spans continents and epochs—and one whose effects still reverberate today.

Hailed as "well written and thoroughly researched" by James L. Nelson, author of With Fire and Sword, this innovative new look at the horrors of the Irish Potato Famine is narrative history at its finest.
About the Author
Kathryn Miles is a professor of environmental writing at Unity College. She is the author of "Adventures With Ari "and dozens of articles that have appeared in publications, including "Alimentum, Best American Essays, Ecotone, Flyway, Meatpaper, "and" Terrain. "She lives--and sails--in Belfast, Maine.