God, No!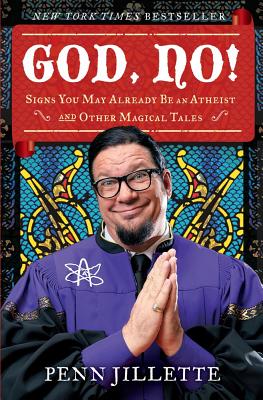 God, No!
Signs You May Already Be an Atheist and Other Magical Tales
Simon & Schuster, Hardcover, 9781451610369, 231pp.
Publication Date: August 16, 2011
* Individual store prices may vary.
Shop Local
Enter your zip code below to find indies closest to you.
Description
Not only can the man rant, he can write. 
From the larger, louder half of the world-famous magic duo Penn & Teller comes a scathingly funny reinterpretation of The Ten Commandments. They are The Penn Commandments, and they reveal one outrageous and opinionated atheist's experience in the world. In this rollicking yet honest account of a godless existence, Penn takes readers on a roller coaster of exploration and flips conventional religious wisdom on its ear to reveal that doubt, skepticism, and wonder -- all signs of a general feeling of disbelief -- are to be celebrated and cherished, rather than suppressed. And he tells some pretty damn funny stories along the way. From performing blockbuster shows on the Vegas Strip to the adventures of fatherhood, from an on-going dialogue with proselytizers of the Christian Right to the joys of sex while scuba diving, Jillette's self-created Decalogue invites his reader on a journey of discovery that is equal parts wise and wisecracking.
Praise for God, No!
"People who say that libertarians have no heart or atheists have no soul need to read this book. Because Penn Jillette has a lot of both." -- MATT STONE and TREY PARKER, creators of South Park and the award-winning Broadway musical The Book of Mormon
"There are few people in the country who question more boldly, brashly, and bravely than my friend Penn Jillette. This book is funny, provocative, and profane. But is it right? God, no!" --GLENN BECK
"This planet has yielded exactly one mutual friend for Glenn Beck and me and that friend has written a brilliant book called God, No! Penn reveals 'the big secret of magic,' tells you why tattoos are perfect expressions of atheism and exactly what to eat when you know you're going to vomit later." --LAWRENCE O'DONNELL
"Penn Jillette is a twenty-first-century Lord of Misrule: big, boisterously anarchic, funny, Rabelaisian, impossible and unique. There isn't--couldn't be--better not be--anybody like him."  --RICHARD DAWKINS, bestselling author of The Greatest Show on Earth and The God Delusion
About the Author
Penn Jillette has been one half of the Emmy Award winning, world-famous magic duo Penn & Teller for more than thirty-five years. He is the author of God, No! and the novel Sock, as well as several books cowritten with Teller. He has appeared everywhere in the media, from Howard Stern to Piers Morgan to the op-ed pages of The New York Times, The Wall Street Journal, and the Los Angeles Times, to The Celebrity Apprentice, Dancing with the Stars, Numb3rs, MTV Cribs, and Chelsea Lately. As part of Penn & Teller, he has been featured more than twenty times on David Letterman, and on The Simpsons, Friends, Top Chef, Late Night with Jimmy Fallon, and more. Jillette is the producer, with director Paul Provenza, of The Aristocrats. He cohosted the controversial series Penn & Teller: Bullshit!, which was nominated for sixteen Emmy Awards. Jillette lives with his family in Las Vegas.
Praise For God, No!…
"Penn Jillette is a 21st-century Lordof Misrule: big, boisterously anarchic, funny, Rabelaisian, impossible—andunique. There isn't—couldn't be—better not be—anybody like him." —Richard Dawkins, bestselling author ofThe Greatest Show on Earth and The God Delusion

"There are few people in the country who question more boldly, brashly and bravely than my friend Penn Jillette. This book is funny, provocative and profane. But is it right? God, no!" —Glenn Beck

"This planet has yielded exactly one mutual friend for Glenn Beck and me and that friend has written a brilliant book called God, No!. Penn reveals 'the big secret of magic,' tells you why tattoos are perfect expressions of atheism and exactly what to eat when you know you're going to vomit later." —Lawrence O' Donnell

"People who say that libertarians have no heart or atheists have no soul need to read this book. Because Penn Jillette has a lot of both." —Matt Stone and Trey Parker, creators of South Park and award-winning Broadway musical The Book of Mormon

"Jillette has made a career as a provocateur, and it is tempting to dismiss this book as another piece of carny shtick, but there is a forceful intelligence at work here that demands to be taken seriously. He has shaped his argument with care." —Daniel Stashower, Washington Post Book World
Tuesday, Aug 16, 2011
Penn Jillette frames his new book, God, No!, as the atheist's Ten Commandments. He joins NPR's Neal Conan to discuss the humility of atheists and his respect for believers. More at NPR.org