Dominance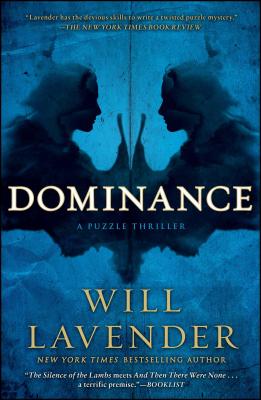 Dominance
A Puzzle Thriller
Simon & Schuster, Paperback, 9781451617306, 353pp.
Publication Date: September 11, 2012
* Individual store prices may vary.
Buy at Local Store
Enter your zip code below to purchase from an indie close to you.
or
Buy Here
Description
A fast-paced literary puzzler, Dominance is "an academic mystery that gleefully illustrates the dangers of losing yourself in a book" (The New York Times Book Review). Fifteen years ago, Alex Shipley was part of a special night class taught by Richard Aldiss, a re-nowned literature professor-- and convicted murderer. Lecturing the group of nine hand-picked students from a video feed in his prison cell, the professor spoke only of one novel by a famously reclusive author, and he challenged the class to solve the mystery of that writer's identity once and for all. Today, Alex is a Harvard professor who made her name as a member of that class, and as the woman who helped set Richard Aldiss free. But when one of her fellow alums is murdered, can she use what she learned from Aldiss to stop a killer--before each of the night class students is picked off, one by one?
About the Author
Will Lavender is the author of the novel Obedience, which was translated into fourteen languages and was a New York Times bestseller. He is at work on his third novel, The Descartes Circle.
Praise For Dominance…
"The self-reflective process of literary criticism known as 'deconstructing the text' becomes a diabolical game of murder in Dominance, an academic mystery by Will Lavender that gleefully illustrates the dangers of losing yourself in a book. . . . Lavender has the devious skills to write a twisted puzzle mystery."—The New York Times Book Review



"Mr. Lavender should be able to write his third, fourth and fifth puzzle-crazy potboilers on the visceral strength of the first two. . . . Dominance is quick and complicated, in a wishfully Da Vinci Code way. But it is also very narrow, à la Agatha Christie . . . Part of Mr. Lavender's sleight of hand involves flattering the reader's keen intelligence . . . His book is tightly edited, with a lot of choppy leaps between 1994 and the present, and with a lot of white space (à la James Patterson) to accompany them. And he writes with real enthusiasm . . . Yes, this book's obsession with riddles and game playing is what one of its characters calls "high nerd," . . . But it is sincere and not just a feat of cookie cutting."—Janet Maslin, The New York Times



"Lavender's novel is a literary labyrinth, the kind made popular by Jorge Luis Borges, without ever losing the pace or the pleasure of a taut thriller."—Milwaukee Journal-Sentinel



"Silence of the Lambs, Agatha Christie, and maybe Pynchon are prerequisites for this thriller set in small-town academia."—San Antonio Express-News



"With Dominance, Will Lavender has written a fascinating novel. If you like puzzles you will enjoy this book. If you are a fan of twists you will like this book. If you like both puzzles AND twists then you will probably flip over this book. It will have you guessing until the final page."—Seattle Post-Intelligencer



"Dominance is a twisting, tilting, hall-of-mirrors funhouse of a book . . . [the plot] unfolds like origami with razor-sharp edges . . . [Lavender] plays fair with the evidence, but he treats his readers as intelligent beings, allowing each of us to puzzle out the answer without spoon-feeding the solution or killing the mystery with excessive foreshadowing as many page-turner authors often do. . . . Dominance reveals its secret stealthily, maintaining the mystery and suspense of the present while divulging the secrets of the past. That is a tricky tightrope, and it is marvelously executed."—Louisville Courier-Journal



"If anyone out there is looking for a good summer book, maybe a beach read, instead of reading something frivolous and light, why not try something that will actually make you think? Will Lavender writes puzzle books: half mystery, half thriller, with a literary twist thrown in for good measure. His newest book, Dominance, will make you think. A lot."—Fort Worth Fiction



"If you enjoy puzzling twists and turns, and suspense that doesn't let up even on the last page, you should delve into Dominance."—Bowling Green Daily News



"[A] taut second standalone. . . . Full-bodied characters, an effective gothic atmosphere, and a deliciously creepy, unpredictable finale."—Publishers Weekly



"Lavender is Houdini-level dexterous at the sleight-of-verb necessary to keep the reader guessing, doubting, perplexed and attentive throughout the book. Characters lie, memories lie, senses lie, and underpinning it all is the game-that's-not-a-game, this enigmatic Procedure, that pulls like an uncontrollable undertow from beyond the grave. Who is Paul Fallows? Maybe the students in Dominance would have been better off never knowing the answer, but Lavender's readers will be abundantly rewarded."—Bookpage