The Whole Life Prostate Book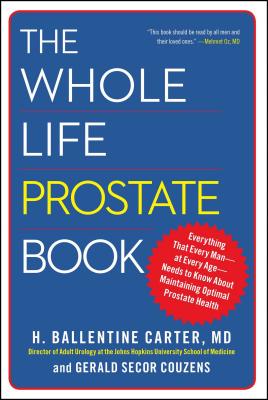 The Whole Life Prostate Book
Everything That Every Man-At Every Age-Needs to Know about Maintaining Optimal Prostate Health
Free Press, Paperback, 9781451621228, 467pp.
Publication Date: August 13, 2013
* Individual store prices may vary.
Buy Now
or
Shop Local
Enter your zip code below to purchase from an indie close to you.
Description
From the head of adult urology at Johns Hopkins comes a comprehensive guide to better prostate health: This book should be read by all men, and their loved ones (Mehmet Oz, MD, Professor and Vice Chair, Department of Surgery, New York Presbyterian-Columbia Medical Center).""
What Every Man Needs to Know About Prostate Health At Any Age
More than twenty million American men are affected by a prostate health issue, and more than two hundred thousand are diagnosed with prostate cancer every year. But many of these problems are preventable.
Dr. H. Ballentine Carter is the preeminent expert in the diagnosis and management of prostate disease, and in "The Whole Life Prostate Book" he provides men of all ages the resources to respond efficiently and effectively to a prostate crisis, as well as advice on how to prevent a crisis from ever occurring. Filled with simple and nutritious recipes, easy-to-follow workout routines, and a straightforward approach to demystifying the complex medical jargon of prostate disease, "The Whole Life Prostate Book" is a comprehensive and powerful guide to maintaining optimal health throughout a man's life.
About the Author
H. Ballentine Carter, MD, is a professor of urology and oncology and the director of adult urology at the Johns Hopkins University School of Medicine. An internationally recognized expert in the diagnosis and treatment of prostate disease, Dr. Carter directs the Proactive Surveillance Program for prostate cancer at Johns Hopkins.

Gerald Secor Couzens is a noted contributor to several medical newsletters, and has coauthored more than twenty-four health and medical books. He lives in New York City with his wife and four children.