For the Common Defense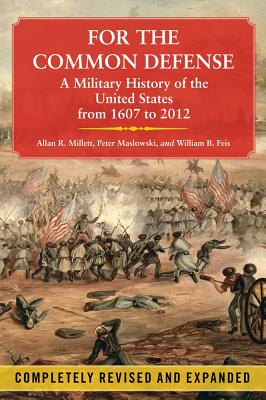 For the Common Defense
A Military History of the United States from 1607 to 2012
Free Press, Paperback, 9781451623536, 714pp.
Publication Date: September 25, 2012
* Individual store prices may vary.
Shop Local
Enter your zip code below to find indies closest to you.
Description
Now fully updated and totally revised, this highly regarded classic remains the most comprehensive study available of America's military history.
Called "the preeminent survey of American military history" by Russell F. Weigley, America's foremost military historian, "For the Common Defense "is an essential contribution to the field of military history. This carefully researched third edition provides the most complete and current history of United States defense policy and military institutions and the conduct of America's wars. Without diminishing the value of its earlier editions, authors Allan R. Millett, Peter Maslowski, and William B. Feis provide a fresh perspective on the continuing issues that characterize national security policy. They have updated the work with new material covering nearly twenty years of scholarship, including the history of the American military experience in the Balkans and Somalia, analyzing the wars in Iraq and Afghanistan from 2001 to 2012, and providing two new chapters on the Vietnam War.
"For the Common Defense "examines the nation's pluralistic military institutions in both peace and war, the tangled civil-military relations that created the country's commitment to civilian control of the military, the armed forces' increasing nationalization and professionalization, and America's growing reliance on sophisticated technologies spawned by the Industrial Revolution and the Computer and Information Ages. This edition is also a timely reminder that vigilance is indeed the price of liberty but that vigilance has always been--and continues to be--a costly, complex, and contentious undertaking in a world that continually tests America's willingness and ability to provide for the common defense.
About the Author
Allan R. Millett is Major General Raymond E. Mason, Jr., Professor of Military History at The Ohio State University. In 2004 he received the Society for Military History's prestigious Samuel Eliot Morison Prize for lifetime achievement. His books include "Semper Fidelis: The History of the United States Marine Corps"; "For the Common Defense: The Military History of the United States of America"; K"A War To Be Won: Fighting the Second World War"; "Their War for Korea"; and "Mao's Generals Remember Korea".

Peter Maslowski is professor of history at the University of Nebraska, Lincoln.

William B. Feis is an associate professor of history at Buena Vista University.
Praise For For the Common Defense…
"A work of fine research, peer review and precise, evenhanded writing that is standing the test of time." --Kirkus Reviews