My Long Trip Home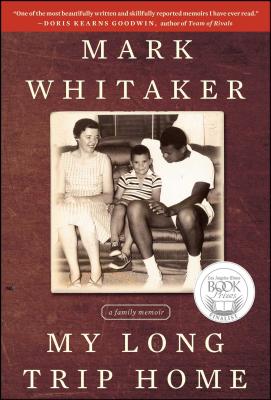 My Long Trip Home
A Family Memoir
Simon & Schuster, Paperback, 9781451627558, 357pp.
Publication Date: January 29, 2013
* Individual store prices may vary.
Buy Now
or
Shop Local
Enter your zip code below to purchase from an indie close to you.
Description
In a dramatic, moving work of historical reporting and personal discovery, Mark Whitaker, award-winning journalist, sets out to trace the story of what happened to his parents, a fascinating but star-crossed interracial couple, and arrives at a new understanding of the family dramas that shaped their lives—and his own.
About the Author
Mark Whitaker is the executive vice president and managing editor of CNN Worldwide.
Praise For My Long Trip Home…
"This is one of the most beautifully written and skillfully reported memoirs I have ever read. Searching to unlock the puzzle of his parents' lives, Whitaker writes with empathy and insight, shifting seamlessly between a child's recollection and an adult perspective. This story will capture your heart from start to finish."
—Doris Kearns Goodwin, author of Team of Rivals



"I picked up Mark Whitaker's My Long Trip Home and I couldn't put it down. He brings his gifts as a journalist and ultimately, his deep compassion as a human, to shed light on his own unique and very moving family story. Spending time with these characters, himself included, reminded me of some of my favorite nights in the theater."
—Anna Deavere Smith, playwright and performer, author of Fires in the Mirror



"Mark Whitaker has given us a deeply personal, instructive and unsparing story of life in a contemporary bi-racial American family. It's all here—the love, pride, anger, confusion and achievement from a man who rose to the top ranks of American journalism."
—Tom Brokaw, journalist, author of A Long Way from Home and The Greatest Generation



"[a] poignant memoir…Whitaker is unsparing in his account of his father's sins and the scars they inflicted…but the author filters his profile through a rich reflection and understanding. Like Barack Obama's Dreams from My Father, Whitaker's memoir is in many ways an iconic story of the post–civil rights era, one in which transcending racial barriers liberates people to succeed—and fail—in their own peculiar ways." — Publishers Weekly (starred review)



"A deeply moving history of family relations and racial identity." —Booklist (starred review)



"…a thoughtful account of growing up bi-racial at a point in this country's history when racial identities are in flux and when people of mixed race are ever more common…. . For the most part Whitaker's tone is objective, almost reportorial, which permits the reader to see his story clearly rather than through the mists of hyperventilated emotion. It's a good book." —Washington Post



"A heavily detailed and highly readable account of the author's lineage…the writing comes across as honest and wholly engaging. A fascinating personal treatise on racial identity and complicated father-son dynamics." —Kirkus Reviews



"A deeply moving history of family relations and racial identity." —Booklist (starred review)



"Told straightforwardly, Whitaker's stories of life and work in proximity to power will appeal to government and media junkies…The parallels to another high-achieving, mixed-race public figure are hard to ignore. Whitaker's retelling of his journalistic triumphs and missteps will remind readers that the face of America's elite is changing." —Library Journal



"A book filled with as much family tumult as Jeannette Walls described in The Glass Castle and a racial factor to boot. . . . Mr. Whitaker . . . is well justified in thinking that his family's unusual history warrants book-length treatment. My Long Trip Home is full of remarkable stories." —The New York Times