celebraTori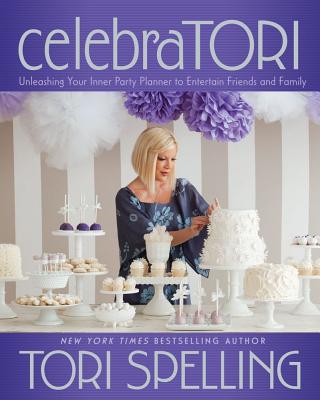 celebraTori
Unleashing Your Inner Party Planner to Entertain Friends and Family
Gallery Books, Hardcover, 9781451627909, 275pp.
Publication Date: April 3, 2012
* Individual store prices may vary.
Not Currently Available for Direct Purchase
or
Shop Local
Enter your zip code below to purchase from an indie close to you.
Description
"New York Times" bestselling author of "sTORI telling," "Mommywood," and "uncharted terriTORI," reality show star, and hostess extraordinaire Tori Spelling offers tips and advice for throwing a fabulous and affordable party as only she can.
"I love the puzzle of throwing special, chic parties with down-to-earth budgets, and lucky you, I m psyched to share my secrets."
Tori Spelling planned her very first party (her own roller skate themed birthday with a hot-pink- and-turquoise color scheme) at the age of eight, and she's been hosting friends and family in her home ever since. She knows as well as anyone that style and elegance don t often play well with budget. Well, with "celebraTORI, "she rolls up her sleeves and turns that notion on its head expertly showing how creativity, passion, and smart planning are the secret ingredients for throwing a truly unforgettable bash on any real world budget. All it takes is a little elbow grease and a lot of imagination to transport your guests to another world as soon as they walk through the door.
In this delightfully entertaining, must-have party companion, Tori shares all the tips and tricks she's learned from her most successful soirees (and a few train wrecks). It's like having your own personal party planner for a fraction of the cost
"celebraTORI "is not just instructional, it's inspirational. Hosting an event is not about ticking to-dos off a list; it's about turning an organic idea into a fun day you and your guests won t forget so much so that you just can t wait to do it again . . . with a different theme, of course. Tori covers all the basics, from discovering new reasons to celebrate and choosing a concept, to decorating, creating flower arrangements, making refreshments, and building the corner-stone of any great party: the dessert table The best part is that all of her suggestions, including her mouthwatering recipes, are 100 percent do-it-yourself.
Filled with lots and lots of great advice, handy blueprints, and hilarious anecdotes, "celebraTORI "will be the most important guest at your next party. It's the perfect foundation for taking life's special occasions up a notch . . . or five.
***
They say the devil's in the details, but for me the details are heaven. Maybe an avid planner and host like me should say that in the course of the party I m on a cloud of joy, but that would be a lie. Planning and preparing are my favorite parts of the process. Truth be told, when it comes to the actual parties, I m a nervous wreck. But there is a moment of joy. Mine comes when I see the party come together. The guests are flowing through the space, tasting food, trying out any activities, having conversations with friends and strangers. And when I see someone take a bite of dessert, or try out a photo booth costume, or smile as they pick up a favor, well, that makes it all worth it.
Creating a party. It's my favorite thing to do, and I m inviting you, as my guest, to join me in the festivities. I know we re going to have fun. Come discover your inner party planner
Love, Tori.
About the Author
Tori Spelling starred in and executive produced the Oxygen hit reality television series "Tori & Dean: Inn Love "and "Tori & Dean: Home Sweet Hollywood". She recently hosted TLC s "Craft Wars "and appeared in the ABC Family original musical "The Mistle-Tones. "The creator of the online lifestyle magazine "ediTORIal "at her website torispelling.com, she is also a #1 "New York Times "bestselling author of three memoirs; a party planning book, "celebraTORI"; and a children s book, "Presenting Tallulah. "She and her husband, actor Dean McDermott, live in Los Angeles with their four young children, Liam, Stella, Hattie, and Finn.