The Lost Angel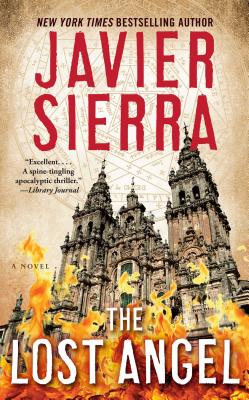 The Lost Angel
Atria Books, Paperback, 9781451632804, 417pp.
Publication Date: July 17, 2012
* Individual store prices may vary.
Buy Now
or
Shop Local
Enter your zip code below to purchase from an indie close to you.
Description
"New York Times "bestselling author Javier Sierra returns with a heart-pounding thriller about mankind's most ancient desire and the modern evil some will unleash to obtain it.
In approximately seventy-two hours, a little-known Middle Eastern terrorist group plans to bring about the end of the world. Convinced that they are the descendants of angels and on the verge of at last returning to heaven, they kidnap scientist Martin Faber, whose research has uncovered an extraordinary secret. Martin's only hope for survival is the rare psychic gift of his young wife. But Julia Alvarez must find the courage to save her husband while running from religious extremists and clandestine government agencies.
Javier Sierra takes readers on an exhilarating international adventure, from the summit of legendary Mount Ararat to the high desert of New Mexico, from the monuments of Washington, DC, to the medieval city of Santiago de Compostela in Spain. "The Lost Angel "bears all the hallmarks of the beloved author's erudite yet fast-paced brand of storytelling, combining historical fact and fiction with dazzling narrative surprises.
About the Author
Javier Sierra, whose works have been translated into thirty-five languages, is the author of The Lost Angel, The Lady in Blue, and the New York Times bestselling novel The Secret Supper. A native of Teruel, Spain, he currently lives in M laga.
Frias, today a special projects reporter for the "Palm Beach Post", has been called one of the finest young journalists in the country. The Associated Press Sports Editors have awarded him seven top-10 awards in the past four years for his work on in-depth features and investigative stories. (The APSE award is similar to the Pulitzer for sports writers.) Among those, a Journal-Constitution three-day series examined the deaths of five high school athletes, and was submitted for a 2003 Pulitzer Prize.
A South Florida native who grew up just north of the Dade-BrowardCounty line, Frias gained the perspective of a boy born of Cuban exiles, but raised among the "gringos." He learned from watching the lights of Little Havana glitter in the distance and hearing the stories of Cuba stitched together in three decades of anecdotes. He says he is "assembled in America from Cuban parts." Fully bilingual, he travels easily between these two langauges and brings his unique cultural sense to his writings.
Frias, 31, resides in Pembroke Pines, Florida, with his wife, Christine, and their threedaughters, Elise, Amelia and Catalina Angeles.
Praise For The Lost Angel…
"A coiling plot, full of insightful characters, with an intriguing mix of hopes and fears. Javier Sierra plays readers like a virtuoso--a stickler for detail-- with imagination galore--but always keeping the story ringing with unadorned reality. Just a solid, drum-tight winner of a book." --Steve Berry, New York Times bestselling author of The Jefferson Key

"In The Lost Angel, Javier Sierra takes us on a riveting quest through 5000 years of humanity's rich esoteric history, peeling away those fascinating onionskin layers of our own hidden past. As the intrepid Julia Alvarez hurtles headlong across a continent to save her husband, she discovers the dark forces that imminently will be unleashed -- when the lost wisdom of the ancients smashes, as in a particle accelerator, against those dangerous powers already held in the hands of modern science." --Katherine Neville, New York Times bestselling author of The Eight and The Fire

"With The Lost Angel, Javier Sierra has gifted his readers with a mesmerizing and thrilling journey into one of the greatest historical mysteries--the true nature of angels. A fascinating and gripping tale." --Heather Terrell, author of Fallen Angel

"From its explosive opening to its thrilling conclusion, The Lost Angel by Javier Sierra is a rocket-paced, page turner. Fans of Dan Brown will find everything they're looking for--and so much more--in this intriguing, provocative novel, as rich in historical detail as it is tuned in to our modern day nightmares." --Lisa Unger, New York Times bestselling author of Darkness, My Old Friend

"This plot-driven adventure is a definite page-turner." --Booklist

"Sierra has fashioned a spine-tingling apocalyptic thriller set in real-world locations and based on well-researched mythology and scientific facts, with just the right amount of fiction to make for an excellent read."--Library Journal

"Javier Sierra has taken the typical apocalyptic thriller to another level." --Charleston Post-Courier