Blessed Are Those Who Thirst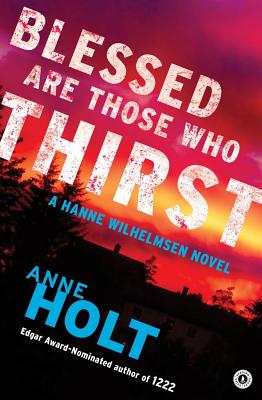 Blessed Are Those Who Thirst
Scribner Book Company, Paperback, 9781451634785, 211pp.
Publication Date: December 18, 2012
* Individual store prices may vary.
Buy at Local Store
Enter your zip code below to purchase from an indie close to you.
or
Buy Here
Description
The second book in Edgar-nominated Anne Holt's international bestselling mystery series featuring detective Hanne Wilhelmsen, last seen in "Blind Goddess."
IT is only the beginning of May but in Oslo a brutal heat wave has coincided with an alarming increase in violent crime. In the latest instance, police investigator Hanne Wilhelmsen is sent to a macabre crime scene on the outskirts of town. An abandoned shed is covered in blood. On one wall an eight-digit number is written in blood. There is no body nor any sign of a victim. Is it a kid's prank or foul play? Is it even human blood?
As more bloody numbers are found in isolated locations throughout Oslo, Hanne's colleague Hakon Sand makes a startling discovery: the digits correspond to the filing numbers of foreign immigrants. All are female, all are missing. Is there a serial killer on the loose in Oslo? How does the killer have access to immigrant data?
Meanwhile, as the trail heats up, the victim of a horrific unsolved rape case and her father have each decided to take justice into their own hands. Hanne and Hakon soon discover that they aren t the only ones on the hunt for the killer.
About the Author
Anne Holt has worked as a journalist and news anchor and spent two years working for the Oslo Police Department before founding her own law firm and serving as Norway s Minister for Justice in 1996-97. Her first book was published in 1993 and her works have been translated into over thirty languages. Her novel "1222" was nominated for an Edgar Award for Best Novel. She lives in Oslo with her family.

About the Author
Anne Bruce is a nationally recognized speaker, workshop leader, and author. Her books with MHP include "Motivating Employees" (Briefcase), "Be Your Own Mentor" (Briefcase), "Building A High Morale Workplace" (Briefcase), "How to Motivate Every Employee" (Mighty Manager), "Perfect Phrases for Documenting Employee Performance Problems", and "Discover True North".
Praise For Blessed Are Those Who Thirst…
"Anne Holt is the godmother of modern Norwegian crime fiction."--Jo Nesbø



"Holt proves a masterful plotter. Unexpected twists hold up to scrutiny, loose ends are tied up and the finale leaves readers wanting more."—Cleveland Plain Dealer



"A good old-fashioned mystery."—Pittsburgh Post-Gazette



"A sympathetic lead distinguishes Holt's second novel."



"Move over, Jo Nesbo."



"A perfect entry point into Scandinavian crime.... A sure pleasure for police-procedural fans who read everything from Slaughter to Nesbo."



"Fast-paced and involving.... Holt knows psychology as well as she knows the ins and outs of police-work. She quickly draws the reader into the minds and lives of half a dozen disparate characters—none more interesting than Inspector Wilhelmsen herself... Holt's visions of societal and ethical decay are balanced by glimpses of great poignancy, human consolation and love."

-Tom Nolan


"Expertly translated forAmerican readers by the highly capable Anne Bruce… A wonderful combination ofold-school police procedure and amateur detective work…. Holt is a master ofbalancing criminal procedure with suspense…. This is a series that demands tobe read, and the more quickly the better."