Carnelians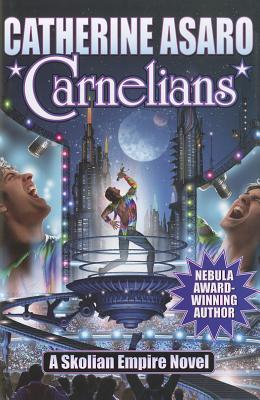 Carnelians
Baen Books, Hardcover, 9781451637489, 373pp.
Publication Date: October 11, 2011
* Individual store prices may vary.
Buy at Local Store
Enter your zip code below to purchase from an indie close to you.
or
Not Currently Available for Direct Purchase
Description
Multiple Nebula-award-winning Catherine Asaro continues her brilliant and intricate Skolian space opera opus. Two galactic emperors attempt to end a multi-generation war of the stars without both getting assassinated in the process.
The leaders of the Eubian empire and Skolian Imperialate have survived political intrigue, military coups and murder attempts as they worked to forge a peace treaty between their two empires. Now comes the hard part--making the treaty a reality.
Assassins are poised on both sides. Their mission: eliminate the leaders for the "crime" of striving to end half a millennia of hatred between empires. And as the main players in the peace process attempt to navigate the Byzantine convolutions surrounding the negotiations, an explosive pop anthem, "Carnelians Finale, " sweeps across three civilizations, its message inflaming passions. The violence escalates and militaries on both sides are called forth. The hope: to keep both empires alive long enough so that their rulers might somehow achieve peace at last.
About Catherine Asaro's Skolia saga:
"Entertaining mix of hard SF and romance.""--Publishers Weekly"
"""Asaro's Skolian saga is now nearly as long and in many ways as compelling as Dune, if not more so, featuring a multitude of stronger female characters.""--Booklist"
"Rapid pacing and gripping suspense.""--Publisher's Weekly.
About the Author
Catherine Asaro received a doctorate in physics from Harvard University, has published a number of papers on theoretical physics and was a physics professor until 1990, when she established Molecudyne Research. A former ballerina, she has performed with ballets and in musicals on both coasts. She lives with her husband and daughter in Columbia, Maryland.