Phoenix Rising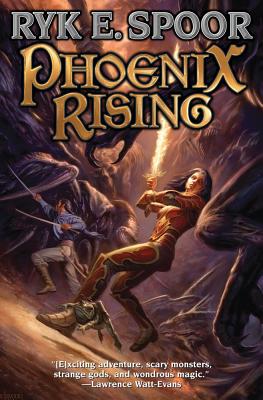 Phoenix Rising
Baen Books, Paperback, 9781451638417, 400pp.
Publication Date: November 6, 2012
* Individual store prices may vary.
Not Currently Available for Direct Purchase
or
Shop Local
Enter your zip code below to purchase from an indie close to you.
Description
Original Trade Paperback. Breakout fantasy epic with strong magic world-building, engaging characters and wondrous adventure. A young woman forges herself into a warrior to avenge her murdered family members and confront a corrupt, evil knighthood that has taken over her native land.
A breakout new fantasy epic filled with strong world-building, engaging characters, and wondrous adventure.
Kyri: a highborn young woman whose life is shattered by the murder of her kin. But even as Kyri flees her beloved land Evanwyl, she knows that she is her family's only hope for justice, and Evanwyl's only chance to escape a growing shadow of corruption and destruction.
Now Kyri must venture across Zarathan, a world on the brink of a long foretold Chaos War. It is a struggle that will rend the foundations of existence and may usher in a long age of darkness -that is, if Kyri and her companions do not succeed in holding back the tide of evil that is rising. Those companions include valiant swordsman Tobimar Silverun, Prince of Skysand, exiled on the turn of a card and a prophecy, who is now seeking his people's lost homeland; and Poplock Duckweed, an unlikely hero whose diminutive size is as much weapon as it is a weakness.
Kyri's quest is as simple as it is profound: find a legendary, ancient weapon smith, take up the sword and armor of a new order of warrior-defenders, and bring the power of justice and vengeance to the evil and corruption that has darkened her native land.
About "Phoenix Rising"
"A winner "Phoenix Rising" gripped me and drew me in. Kyri, Tobimar, and Poplock became friends, people I care for and want to know more about and spend more time with. Great characters, and thrilling adventure. I want more "--Ed Greenwood, best-selling author of the Forgotten Realms series
" E]xciting adventure, scary monsters, strange gods, and wondrous magic."--Lawrence Watt-Evans
"I became very involved with Kyri's quest for vengeance and justice." -P.C. Hodgell, author of the best-selling Kencyrath Series.
About the Author
Ryk E. Spoor was born in Omaha, Nebraska, and has since lived in South Dakota, Georgia, Pennsylvania, and New York. A fan of Oz from the time he was 6, Ryk collected all of the Baum Oz books and read them repeatedly, never forgetting them even when he graduated to the epic fantasy of Tolkien, the space opera of Doc Smith, the harder SF of Heinlein, Asimov, and Clement, and later becoming a computer geek, a gamer, and an anime fan. Along this fannish journey, Ryk also accumulated a few degrees (in Mathematics and Science, Psychology, and Information Science) and worked in various locations. He also met, dated, and married his wife Kathleen Moffre-Spoor, and they now have four children - all of whom have been introduced to Oz, among other stories of his youth. In 2000, Ryk cleverly attracted the attention of Baen Books by insulting the work of one of its editors, Eric Flint, online; this eventually led to the publication of his first book, Digital Knight, in 2003. With the publication of Polychrome Ryk E. Spoor enters the realm of self-publication; Polychrome is his eleventh book overall. He now lives in Troy, NY, with his family, one poodle, and a flock of chickens.