A Cosmic Christmas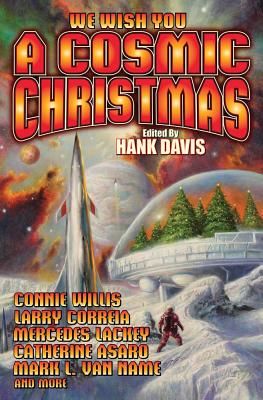 A Cosmic Christmas
Baen Books, Paperback, 9781451638622, 312pp.
Publication Date: November 6, 2012
* Individual store prices may vary.
Buy at Local Store
Enter your zip code below to purchase from an indie close to you.
or
Buy Here
Description
Original Christmas anthology. Twelve cosmic days of Christmas tales ranging from vampires to robots, from the hills of Appalachia to a high orbit space station, all celebrating the holiday in off-beat ways.

"Joy to the world" . . . or, joy to the "worlds "Let heaven and nature--and also the supernatural--sing. "A Cosmic Christmas" presents twelve stories of Christmas in very unusual circumstances, ranging from vampires to robots, from the hills of Appalachia to a high orbit space station, all celebrating the holiday in their own, off-beat ways.
"New York Times" best-selling author Larry Correia sends his popular tough guy detective and magicwielder, Jake Sullivan, on a special case, while visions of tommy guns dance in the heads of the thugs he's up against. Mark L. Van Name's Lobo, an A.I. housed in a pocket battle starship, drops his usual cynical pose when challenged by a troubled family at Christmas time. Nebula Award-winner Catherine Asaro tells of a romantic weekend that turns into a mystery in a futuristic high-tech house--all that and Christmas, too. Mercedes Lackey delivers a ghost story with a not-so-friendly visitation from the beyond, and George O. Smith, a star of the Golden Age of science fiction, is on hand with an episode from his classic Venus Equilateral series, in which a Christmas celebration on a gigantic space station is interrupted by the arrival of a ruthless interplanetary criminal, who didn't drop by to hand out presents. And much more, in a holiday package that any fan of science fiction and fantasy would be delighted to find under their tree, on any planet.
About "A Cosmic Christmas "authors:
"If you love monsters and action, you'll love Larry Correia]. If you love guns, you'll love Correia]. If you love fantasy, and especially horror fantasy, you'll love Correia]."--"Knotclan.com"
" Catherine Asaro creates] an entertaining mix of hard SF and romance.""--Publishers Weekly"
"Just when I was thinking science fiction might be over, Mark Van Name proves that there are still smart, exciting, emotional sci-fi stories to be told." -Orson Scott Card.
About the Author
Editor Hank Davis is Senior Editor at Baen Books.

Connie Willis is the award-winning author of Doomsday Book, Passage, To Say Nothing of the Dog and Bellwether. Connie has been awarded 10 Hugo Awards, 11 Locus Poll Awards and 6 Nebula Awards.

Larry Correia is hopelessly addicted to two things: guns and B-horror movies. He has been a gun dealer, firearms instructor, accountant, and is now a very successful writer. He shoots competitively and is a certified concealed weapons instructor. His first novel, Monster Hunter International, is now in its sixth printing, and has been followed by Monster Hunter Vendetta, Monster Hunter Alpha, and Monster Hunter Legion. Correia s previous novels in the Grimnoir Chronicles series were Hard Magic and Spellbound. With USAF military ordnance expert Mike Kupari, he has co-authored two novels in a military adventure series, Dead Six and Swords of Exodus. Correia resides in Utah with his very patient wife and family.